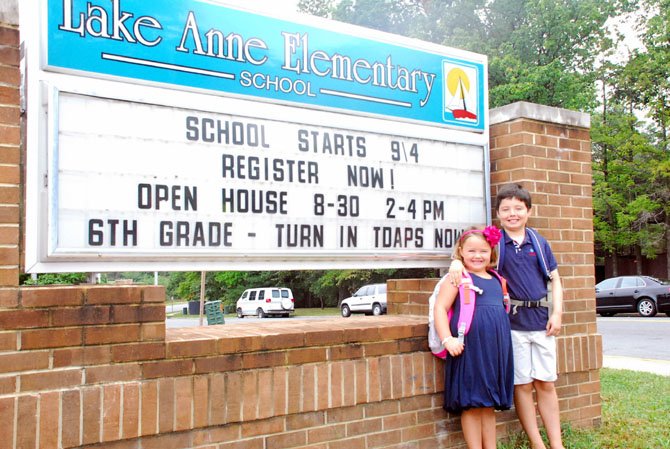 When asked about the start of kindergarten at Lake Anne Elementary, five-year-old Caroline Kohn of Reston says she is "excited, but shy." Caroline's mom, Blake Kohn, says her youngest child is anything but shy; mom thinks her little girl is actually nervous about school.
Blake says she shares Caroline's feelings about the start of school. "I'm nervous too. I'm happy and scared. I have very mixed emotions. I'm happy for her. I know she will be in a good place. I'm happy she has a brother who will look out for her. She's my baby, but I know she'll be fine."
Older brother, Will, a third grader at Lake Anne, has promised to walk Caroline to class, but, mom says, he said he could not guarantee he would give her a kiss good-bye.
Having an older child in elementary school, said Blake, makes it a bit easier to send Caroline. "I know more about what her day will be like than I did when Will was a kindergartener."
Caroline is one of an estimated 13,000 students transitioning from preschool or home care to kindergarten in Fairfax County this fall. At Lake Anne, Caroline will participate in the county's Spanish immersion program in which math and science classes are taught in Spanish. More than 600 students are enrolled at Lake Anne. Approximately 55 percent of those students participate in the Spanish immersion program offered at the school.
In addition to being a mom and co-director of a home-based preschool, Blake is president of the Lake Anne PTA. Her tenure as president began last spring and will continue for the next two years. "I think this school year will be great. We have a great school community."
The 2012/13 school year marks the end of a two-year renovation project at Lake Anne. In addition to a total facelift with new energy-efficient windows and doors, fresh paint, tiles, and floors, classrooms are now outfitted with Smart Boards, interactive whiteboards that use touch detection for user input.