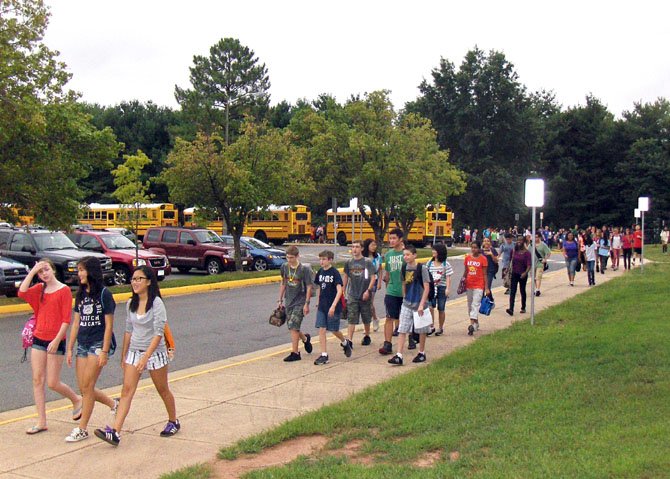 Photo Gallery
Back to the Classroom at Rocky Run and Greenbriar East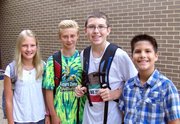 Students get back to the classrooms.
Click Photo for Flash
Centreville — More than 181,000 students headed back to their classrooms Tuesday morning, Sept. 6, for the start of the 2012-13 school year. They toted backpacks, lunchboxes and assorted supplies and greeted the new year with varying degrees of enthusiasm.


ROCKY RUN MIDDLE
"I had a pretty good year as a seventh-grader, so I'm hoping to do the same as an eighth-grader," said Emily Dillard. "I'm excited to meet the new theater teacher and I'm going to have a new civics class this year. And I'm happy to be able to get volunteer service hours."
Classmate Hung Ho said he'd miss summer, but was looking forward to learning. And seventh-grader Lea Gwennap was excited about having swim practice after seventh period. Eighth-grader Briley Rickard was eager to participate in theater and take Spanish and Civics, and seventh-grader Fletcher Madsen looked forward to P.E. and "playing flag football and basketball."
Glad to be back at school was classmate Patrick O'Shea. "I'm ready to learn and excited about home ec and participating in the WWII oral history program," he said. Seventh-grader Austin Simmons said he couldn't wait to get his locker and take home economics and weight lifting.
However, classmate Sammy Hong, who transferred from a school in Fairfax, was nervous about meeting the other students and teachers. "I'm kind of afraid to change classes," she said. "But I'm looking forward to playing cello in the orchestra and writing in the Authors Club."
Walking into school together were eighth-graders Lizzy Carter, Taylor Fontaine, Megan Rice and Mary Hogan. Mary was excited about French class and lunch, and Lizzy was eager to start Tech Exploration class, using "computers and CAD drawing to plan stuff." Taylor missed going to the pool, but looked forward to English and being in Show Choir and the school plays. Megan was excited about science and 3D Art. Last year, she said, "They made 3D letters that stood up."
Seventh-grader Joseph Szczur, though, wished school were ending instead of starting, but admitted, "It feels kind of good to be in middle school."
Meanwhile, Principal Matt Eline held a big sign saying, "Ask me," and the students asked him where they should go and where to get maps of the school. "I love it when the kids come back," he said. "It's the best part."
Rocky Run's enrollment is 1,016 students, up from about 970 last year. And this year, the school is holding an Anti-Bullying Awareness Day, on Oct. 12, for the entire Chantilly Pyramid. "I'm ordering 12,000 purple wristbands saying, 'Stand by Me,' for every staff member and student to wear that day," said Eline. "This is one of our big initiatives this year, and the first step is to let people know bullying exists."
On Aug. 14, Rocky Run hosted an anti-bullying summit and created a 24-person task force of students, parents, staff, teachers and principals from elementary through high schools. "The FCPS Youth Survey said 80 percent of eighth-graders said they'd been bullied, the previous year," said Eline. "So it's a big problem and we're focused on it. People see bullying and don't help out, so 'Stand by Me' says that bystanders are an important part of helping resolve this issue."


GREENBRIAR EAST
At Greenbriar East Elementary, some parents walked their children to school; others came by bus and received stickers of their bus numbers as they arrived so they'd known which bus to get on to go home.
Young Soo Jeong brought daughters Rachel, a second-grader, and Christina, in third grade. Both girls looked forward to recess, going to the library and making new friends.
Lugging two bags of school supplies was sixth-grader Alex Butali, who especially likes gym and math. "I feel happy because I get to see all my friends," he said. "And it's the last year of elementary school for me, so the younger kids look up to me and the other sixth-graders. So it's fun to come back."
Fifth-grader Harrison Roderick was a bit nervous about meeting new students and "seeing how my new teacher is." But he looked forward to "having fun and making new friends." A safety patrol, he likes the job because "you get to help people and that's really nice to do."
Sang Do walked his daughters, third-grader Lena and fifth-grader Sara, to school. Proud of her new clothes and sparkly bracelet, Lena said, "I like to write and I'm looking forward to having fun and learning new things." Sara had a new backpack and hair accessories and was eager to "make new friends and work hard in school." Her favorite subjects are math and writing.
Fifth-grader Lamin Sesay likes science and health and looked forward to doing well in school and "meeting new kids." Sixth-grader Nelson Coronado Jr. was excited about "having fun" and going to P.E. and math class. And his sister, second-grader Erica, who likes math and reading, sported her new, Justin Bieber lunchbox and book bag. "I feel excited for them to have a successful year," said their dad, Nelson Coronado Sr. "It gives them something productive to do."
Fifth-grader Adam Jaynes also came to school with his sibling, third-grader Katie, who looked forward to meeting her classmates, singing and playing recorder. The student body vice president, Adam plans on getting good grades, adding, "I like social studies, science and P.E. — and math if it's fun."