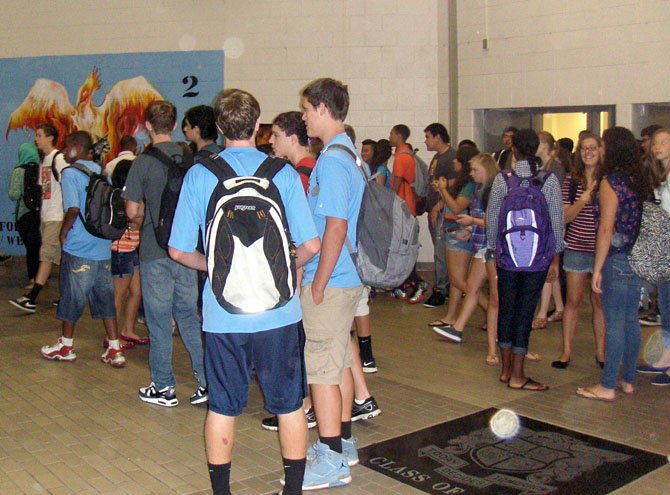 Photo Gallery
Back to the Classroom at Centreville HS and Stone Middle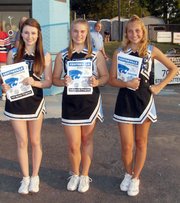 Students get back to school.
Click Photo for Flash
Centreville — More than 181,000 students headed back to their classrooms Tuesday morning, Sept. 6, for the start of the 2012-13 school year. They toted backpacks, lunchboxes and assorted supplies and greeted the new year with varying degrees of enthusiasm.
CENTREVILLE HIGH
Not only are the freshmen new to Centreville High, but so is the principal, Martin Grimm, who stood outside the school welcoming students as they exited their buses and streamed inside the building.
Brothers John Carlos and Anthony Portal walked in together. A junior, John Carlos advised sophomore Anthony to "focus on what he has to do and to do his homework." Although sad that summer's over, John Carlos was "kind of excited to see my new teachers, play soccer and see how my photography class goes."
Anthony looked forward to "doing good, passing all my tests and playing soccer." A forward and midfielder, he played on last year's JV and varsity teams.
Adrie Johnston, Victoria Angel and Danielle Alby are all JV cheerleaders for the Wildcats and are happy to be back at school. "I'm pretty excited to see all my friends and cheer," said Johnston, a sophomore. "And I'm also looking forward to chorus."
Besides cheering, classmate Angel is eager to do gymnastics in the winter and swim in the spring. She also wants to "meet new people and hopefully get good grades." Alby, a junior, will miss sleeping in, but is looking forward to school sports, pep rallies and Spirit Week, the week before Homecoming in October.
Freshman Catherine Wilson was "nervous about trying to get to my classes on time," but eager to perform in the Color Guard with the marching band. Her sister Tamara, a senior, is beginning her fourth year in Color Guard. To prepare Catherine for high school, Tamara told her what to expect in her classes.
"I said, 'Don't worry, you'll be fine and will figure everything out as time goes on,'" said Tamara. Meanwhile, she was looking forward to "being more independent and responsible and having a fun year before going to college. I hope I like all my classes. I'm taking teacher cadet [class] and might join the National Honor Society."
Her friend, senior Jeanette Rodriguez, was excited about taking a class at Fair Oaks Mall in marketing and management.
Sophomore Victor Das planned on having a good time while passing his classes. "I just want to be with my friends and go to every football game," he added. And Junior Christian Hall looked forward to his Sculpture II class.
Gurleen Matharoo, a freshman, eagerly anticipated starting high school. "But I'm also scared because it's bigger and really different [from middle school]," she said. "But I'm happy about being with my friends. I'm looking forward to English and I might try out for basketball."
Classmate Grace Kim was "nervous about getting to my classes, but super-excited to meet new people." She likes biology and may participate in volleyball. Fellow freshman Shruthi Prabhakar was a bit apprehensive about "the workload and finding my way to my classes," but also looked forward to seeing old friends and making new ones.
Senior Damon Gresham hopes to someday go into engineering. He plays defensive lineman on the varsity football team and feels good about the Wildcats' prospects this year. "I believe in these guys," he said. "I think we'll do pretty well."
STONE MIDDLE
At Stone Middle School, eighth-grader Katie McKenzie was a bit sad to return to class because she "liked sleeping in and having more time for swimming for the Chantilly National team." But as a Lady Panther on the girls' after-school, cross-country team, she's looking forward to doing well. "I want to get first place in the 5K," she said. She also hopes to get good grades in science, math, English and choir and pass her SOLs.
"Summertime is busy," added her mother, Terrie McKenzie. "As a parent, I feel very happy to get back into the routine again of school, swimming and after-school activities."
Seventh-grader Austin Cole, a Deer Park Elementary grad, was looking forward to Spanish class. Virginia Run alumni Alex Cameron and Bobby Pickett are also starting seventh grade at Stone. Saying he's "happy to be in middle school," Alex was excited about taking honors history. Bobby was eager to take his math class, but added, "I'm nervous about the lockers because I don't know how to do the lock, yet."
Tania Vasquez, an eighth-grader, looked forward to participating in after-school programs, playing soccer and going to art class. But, she said, "I'll miss going to the pool."