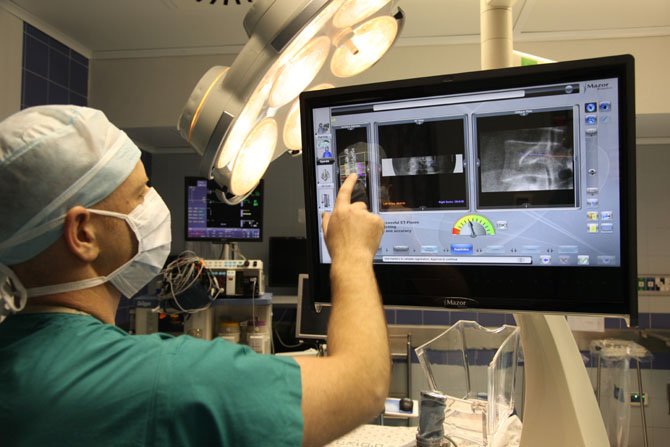 Renaissance™, Mazor Robotics' surgical guidance system, is the latest addition to Reston Hospital Center's Institute for Robotic and Advanced Minimally Invasive Surgery. Reston Hospital Center is the first, and only, hospital in the Mid-Atlantic region to offer Renaissance guided spine surgeries.
"Bringing the Mazor Robotics' Renaissance™ to Reston Hospital Center is part of our continuous commitment to providing Northern Virginia with the highest standard of care through innovative technologies," says Jane Raymond, Reston Hospital Center Interim CEO. "Once we were convinced of the positive impact on patient outcomes, the decision was easy. We see surgery with Mazor Robotics technology as a natural expansion for our surgical spine program and part of our strategic decision to be the leading hospital for advanced and robotic spine surgeries in Northern Virginia."
Mazor Robotics technology has been clinically validated and ensures the highest level of safety for patients by its consistent accuracy of 1 mm (1/25 inch). Before entering the OR, surgeons use Renaissance™ to pre-plan the optimal surgery in a CT-based 3D simulation of the patient's spine. During surgery, Renaissance™ guides surgeons to the precise pre-planned location with utmost accuracy. Investigators of a recent 14-site international multicenter study published in the peer-review journal Spine concluded that Mazor Robotics technology "offers enhanced performance in spinal surgery when compared to freehand surgeries, by increasing placement accuracy and reducing neurologic risks." It also enables minimally invasive surgery with lower radiation.
"The Renaissance™ delivers its greatest value with minimally invasive spine surgeries", says Dr. Thomas Schuler, Reston Hospital Center spine surgeon and CEO of Virginia Spine Institute. "While minimally invasive means less pain, smaller incisions, shorter hospitalizations and faster recovery for the patient, it presents challenges for the surgeon due to the lack of direct line-of-vision, requiring multiple intraoperative X-rays to compensate. Renaissance™ overcomes these challenges, providing patients with the best possible clinical results, and with minimal intraoperative radiation."