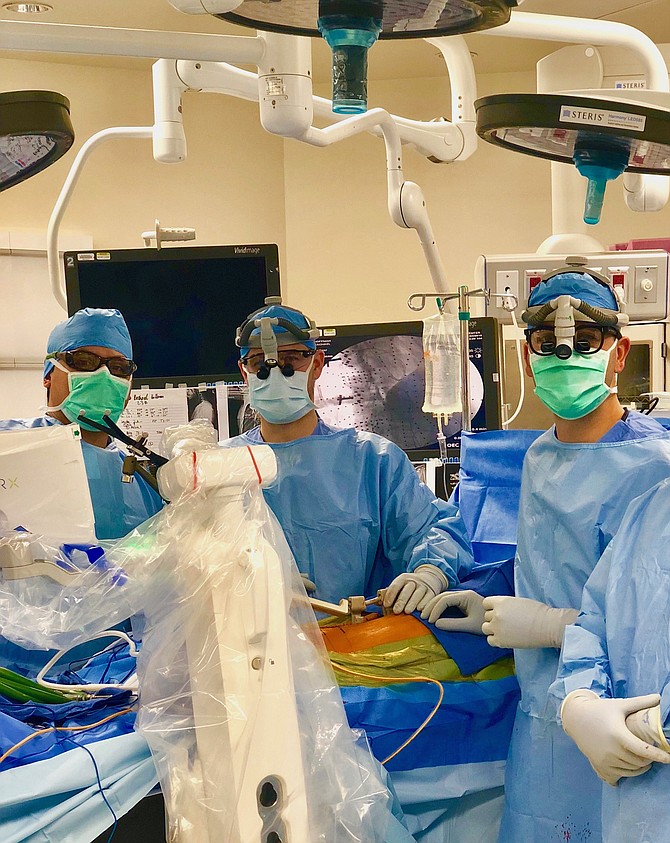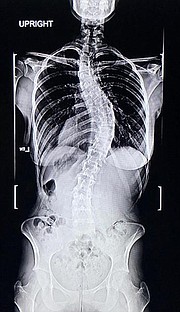 The first patient in the world received breakthrough robotic spine surgery at Reston Hospital Center (RHC) performed by surgeons at Virginia Spine Institute, Reston using the nation's first Mazor X Stealth™ Edition system. RHC serves the Northern Virginia community.
Announced late January, "…the marriage of robotics and navigation represents the future of computerized planning and execution in spine surgery," said lead surgeon Dr. Christopher Good, Director of Scoliosis & Spinal Deformity and President of Virginia Spine Institute, in a statement.
Co-developed between Medtronic in Ireland, a global leader in medical technology and the recently acquired Mazor Robotics, in Israel, a pioneer in the field of spine robotic guidance systems, the device received U.S. Food and Drug Administration (FDA) clearance in fall of 2018 according to Mazor Robotics.
DURING THE SURGERY, Dr. Good, Dr. Colin Haines and Physician Assistant Ian Brown of the Virginia Spine Institute in Reston corrected progressive curvature of a patient's spine caused by scoliosis. "I am proud to have been involved in this major breakthrough," said Dr. Good in a statement. "Robotics and navigation have both been shown to improve accuracy and precision in spine surgery...The Mazor X™ Stealth Edition is a revolutionary new technology that uses state-of-the-art software to plan the ideal surgical procedure, then uses a robotic arm to guide the steps of the surgical procedure with extreme accuracy while simultaneously using real-time imaging feedback to ensure the plan is being carried out as desired, ultimately leading to better outcomes for our patients."
Looking toward the future of spine care, Geoff Martha, executive vice president and president of the Restorative Therapies Group at Medtronic said, "As part of our Surgical Synergy strategy, we believe Mazor X™ Stealth Edition will accelerate the advancement and adoption of robotic-assisted and navigated surgical technologies in spine. Medtronic is committed to transforming the future of spine care by offering procedural solutions that integrate implants, biologics and enabling technologies like navigation, 3-D imaging, robotics and powered surgical tools. "Mazor Robotics describes the Mazor Core Technology as the collaboration of four systems to provide "predictable, efficient and precise surgical procedures."
"Our team is leading the nation in advancing spine surgery," said John Deardorff, President and CEO of Reston Hospital Center and HCA's Northern Virginia Market in an RHC Press Release. "Investing in the latest technology is a part of our commitment to both our surgeons and patients, giving them access to resources necessary to ensure the best possible outcomes," he said.
ACCORDING TO RHC, its facility was one of the first in the country to acquire and use the original Mazor Technology in 2012. In 2016, RHC was the first in the Mid-Atlantic region to acquire and perform a procedure using the then latest Mazor X platform.
RHC reports more than 1,500 spine surgeries are performed annually at the center, with more than 600 of these procedures utilizing the advanced technology of the Mazor X system. In addition, the center offers "...one of only eight Visiting Clinician Programs (VCP) in the United States where surgeons from around the world come to train on the latest in Mazor technology... surgeons also learn how a comprehensive robotic surgical program runs from an operational and administrative perspective." Reston Hospital Center is located at 1850 Town Center Pkwy, Reston.
Virginia Spine Institute
As the industry leader for over 25 years, Virginia Spine Institute (www.SpineMD.com) reports, "(it) has improved the lives of over 85,000 patients suffering from back or neck conditions. This spinal healthcare destination provides a unique concierge approach and utilizes revolutionary medical advances in non-operative procedures, regenerative medicine, physical therapy, and surgical intervention."
Virginia Spine Institute is located at 11800 Sunrise Valley Dr., Reston, 571-210-6811.
More like this story