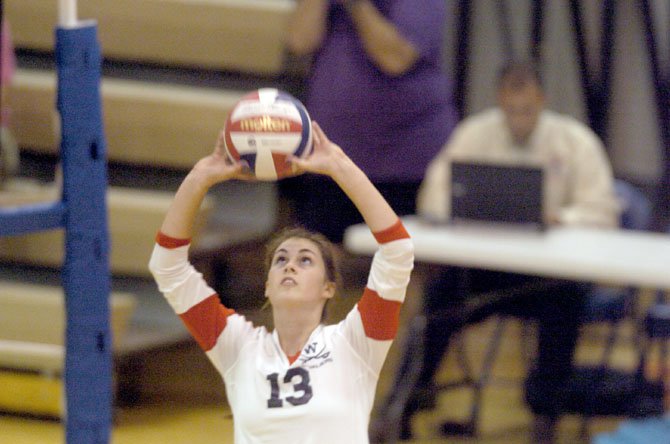 Fairfax — Caitlynn King showed versatility against Chantilly on Sept. 4, putting away kills, setting up teammates and serving up aces. Hannah Dallman showed athleticism, leaping in the air and making an impact at the net. Maggie Price showed power, slamming a kill of the chest of an opponent.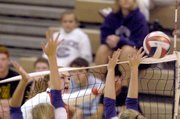 King, Dallman and Price are senior captains on the Woodson volleyball team and responsible for leading the Cavaliers on their quest to maintain the success of 2011, when Woodson won its first district championship in program history, finished Northern Region runner-up and advanced to states. Gone are first-team all-state middle blocker Jorden Jackson (LIU Brooklyn) and honorable mention all-state setter/outside hitter Rachel Conway (Christopher Newport), who are now playing at the collegiate level. Despite the loss of two talented athletes, the Cavaliers showed on Tuesday there is still plenty of talent on the roster.
Woodson defeated Chantilly, 3-1 (25-22, 25-20, 25-27, 25-15), at W.T. Woodson High School, improving the Cavaliers' record to 3-0. The three senior captains had strong performances, led by King's 14 kills and four aces. Price had nine kills and Dallman had eight.
"Players that make all-state teams are hard to replace," Woodson head coach Len Palaschak said. "We've got a good group here. … We have the potential to do the same; it's whether they can work to get to that level or not. We'll have to just see what happens. We have the hitters and we have the height again. It's all about senior leadership on the floor."
THE 5-FOOT-8 KING sets and hits in the Woodson offense. She said her mentality remains the same no matter where she's playing.
"My mentality is just to go after the ball," King said. "I like to be aggressive. I don't like tipping. I just like to hit."
King had a pair of aces in each of the first two games.
"Players that make all-state teams are hard to replace. We've got a good group here. … We have the hitters and we have the height again. It's all about senior leadership on the floor."

--- Woodson volleyball coach Len Palaschak
"Caity is a good, all-around player," Palaschak said. "She can hit, she can set, she's got a vicious serve and she's a competitor – that's how to describe her. She does not like losing. I like that about her."
The 6-foot Dallman said she can tell the difference in not having Jackson and Conway around, but she's pleased to step into her new role as a senior.
"They each brought a special something to the team," she said. "I've earned captain, so … I've been given a leadership role and that's always very comforting that my coach has confidence in me."
Palaschak said Dallman's volleyball ceiling is high.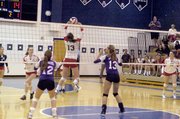 "I think out of everybody on our team, she has the most potential out of any player to be a superstar out there," he said. "She's just got to get her timing down and once that's down, she's going to be amazing."
Price has been one of the players to step in for Jackson in the middle.
"I've definitely had to step up this year," Price said. "Jorden was just a powerhouse, so we had to get the hitting back. As a team, I think we've really coped well. I think we've filled in their positions well and the new players that came up definitely stepped up, also."
Palaschak said Price is a solid combination of size and ability.
"She's just a good all-around player," he said. "She passes well, she's 6 foot, she plays back row-front row."
Woodson has younger talent, as well. Sophomore opposite hitter Eliza Fisher (5-10) had 12 kills and 5-foot-11 sophomore Erica Opatz had six.
WOODSON WILL TRAVEL to face Edison at 7:15 p.m. on Thursday, Sept. 6. Woodson opens Patriot District play on Sept. 24 at T.C. Williams.
"[Our success in 2011] definitely helps with our confidence and we definitely want to win and go after it again this year," King said. "Districts is a big goal for us. We want to get another banner up; we want to get a state banner up. We want to go all the way this year."