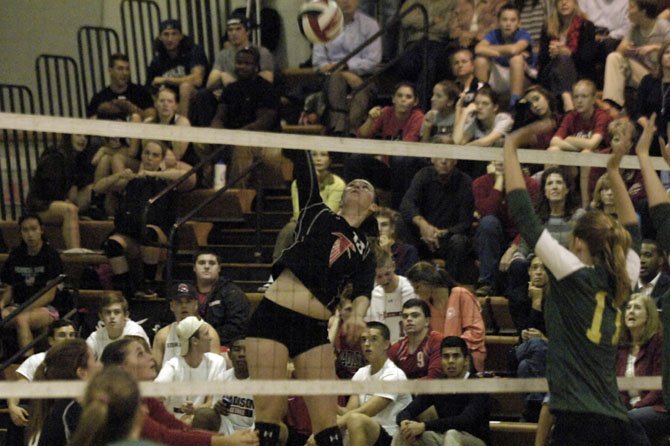 Junior outside hitters Jayne Carter and Natale Zanellato on Oct. 16 helped the Madison volleyball team pass one of its toughest tests to date during the Warhawks' season of perfection.
Thursday's victim: defending state champion Langley.
Carter tallied 18 kills and Zanellato finished with 15 as the Warhawks improved to 21-0 with a 3-1 (25-15, 23-25, 28-26, 25-20) victory at Madison High School. Carter and Zanellato combined for nine kills during the pivotal third set, when Madison overcame a 26-25 deficit with three straight points.
It was just the fourth time all season an opponent had taken a set from Madison.
"This is a good test for us because I can't tell you the last time that I've beaten them," said Madison head coach Carrie Hall, who has been with the program for more than a decade. "It has been years and years and years."
Thursday's win marked the second straight season Madison started 21-0. Last year, the Warhawks followed 21 consecutive victories with back-to-back losses.
"We were 21-0 [in 2013] before we lost to Langley and Washington-Lee," Hall said. "We've made the 21-0 again. I don't know if it means anything at this point."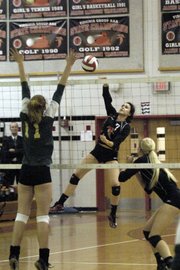 Carter is in her third season on the Madison varsity, the first two ending with a loss in the region semifinals. Does she feel pressure to maintain an undefeated record?
"We're definitely grateful for [being undefeated]," Carter said, "… but we try not to think of it too much as we go into a [match], because any team can win on any given night."
Zanellato is in her first season with the Warhawks after transferring from Lake Braddock. How does she feel about having a zero in the loss column?
"It feels really great to be undefeated," Zanellato said. "I don't think it adds more pressure. We don't really look at the numbers that much. We just go one game at a time."
Carter and Zanellato played against Langley as if they were focused on the task at hand. Carter had a strong second set, totaling six kills and an ace. She had five kills in the match-clinching fourth-set victory.
"I thought she played really well," Hall said. "Jayne steps it up when we need it. We were trying to get the ball out to her all the way to the outside. … She played spectacular."
Zanellato had five kills and an ace in the fourth set.
"Natale's doing a great job," Hall said. "Obviously, you can see her power when she hits, when she gets a hold of the ball. The girls are working really well together right now. She's a great addition. Our team was really solid before and she's just adding to it."
Madison senior middle hitter Emily Davine finished with seven kills against Langley. Sophomore right side Emily Calhoun totaled six kills, senior outside hitter Marissa Roy had four, and senior libero Virginia Moore tallied six aces.
Madison improved to 23-0 with sweeps of Washington-Lee and Hayfield. Next up for the Warhawks is a home match against Fairfax on Oct. 28.