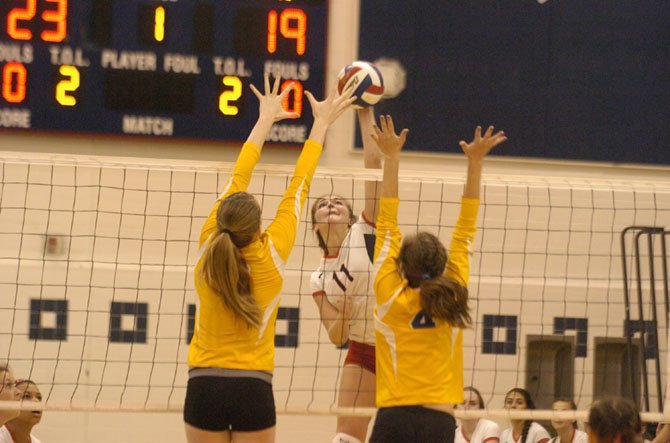 Woodson volleyball team on Tuesday night, Sept. 3, dropped two of three sets to the Robinson Rams for the second time in four days.
There was no chance for recovery on Aug. 31 as Woodson's 2-1 deficit meant Robinson secured a victory during a best-of-three tournament match. On Tuesday, however, the Cavaliers used intensity, positivity and career-best performance by senior Eliza Fisher to bounce back and win the regular season best-of-five rematch.
Fisher amassed a career high 31 kills as the Cavaliers won the final two sets to capture a 3-2 (25-19, 22-25, 22-25, 25-18, 15-9) victory over Robinson at Woodson High School.
"On fire. That's all you can say," Woodson head coach Len Palaschak said about Fisher's performance. "She's an amazing ball player."
Fisher, a left-hander, tallied five kills in the fifth set, including the final two points of the match. She also totaled five aces during the contest.
"The thing about our team is when we get into ruts, we're really good at bringing each other out of it," Fisher said. "We're constantly being positive. It's very easy to get frustrated, but we're always trying to uplift people and always try to have something positive to say.
"… [W]e were out for blood. We were mad that they beat us. … We were just really pumped to play this game."
Woodson's Mackenzie Reed finished with eight kills, Dara Stevens had six kills, Bella Brahm had four kills and Kaelin Jennison and Jennifer Scott each had three.
"She's an amazing ball player."

—Woodson volleyball coach Len Palaschak about Eliza Fisher
Palaschak said Jenna Yost, who switched to the libero position late in the match, performed well. Yost will play for the University of Mary Washington.
"Jenna Yost did an amazing job," he said. "She got to everything. She made a couple great saves."
Woodson won back-to-back Patriot District championships in 2011 and 2012. Even though the Cavaliers are now a member of Conference 7 (same teams that were in the Patriot District, minus Lee) after the VHSL's six-class realignment, Fisher, a four-year varsity athlete, has her sights set on a three-peat.
"I would love to get another district championship," she said. "Our banner is right over there and we got our very first district championship ever my sophomore year, we got another one last year [and] I'd love to continue the streak with my senior year."
Woodson will host Oakton at 7 p.m. on Monday, Sept. 9.