Alexandria — With the first day of school a week away, thousands of students, parents, teachers and community supporters converged on T.C. Williams High School Aug. 29 for the first Back to School Family Night sponsored by the Alexandria City Public Schools Family and Community Engagement Center.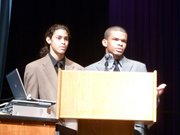 "This is an incredible crowd," said ACPS School Board member Yvonne Folkerts. "As of yesterday, we had more than 1,000 families registered to attend."
The auditorium and halls of T.C. barely contained the overflow crowd as students and their families visited booths set up to provide information on resources and activities available to students.
"We gave out more than 1,000 books to children in need tonight," said Lorraine Friedman, executive director of the DreamDog Foundation, a local nonprofit dedicated to literacy and experiential learning. "Access to books is an important first step in becoming a reader. Many children don't have bookshelves loaded with books. But, if we can hand them a few of their own, we increase the chance of them learning to read. Ultimately, that's our goal — to get books into the hands of children who need them."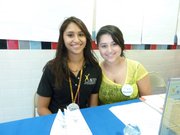 Superintendent of Schools Dr. Morton Sherman was one of several speakers to address the crowd, which included Rep. Jim Moran (D-8), City Councilman Frank Fannon and members of the School Board.
"We need partners in public education," Morton said. "That's why we are here this evening. We wish you the best and will join with you hand in hand to accomplish the dreams you have for your children."
Traffic was tied up for blocks as families attempted to enter the high school parking lots to attend the first FACE-sponsored Back to School Night.
"We're excited about the turnout tonight," Folkerts said. "We will look at the pros and cons of doing it again next year and figure out how best to accommodate everyone who wants to attend."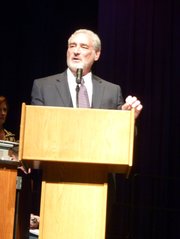 To learn more about the programs of FACE or to register for an activity, call 703-824-6865 or visit www.acps.k12.va.us/face-centers.