Passionate about sharing the gift of reading, the DreamDog Foundation intends to get books into the hands of every child in need in the City of Alexandria through its new literacy program called Alexandria's Book Shelf.
"Reading is the number one predictor of success in schools, yet many of our children, right here in Alexandria, do not own books of their own," said DreamDog executive director Lorraine Friedman. "While many groups have made an impact through book donations, tutoring, and reading buddies, a free book a few times a year is different than access to books on a regular basis. Because of that, we decided to create Alexandria's Book Shelf to help provide children in need with access to books where they live, play and go to school."
In the first few months of creating Alexandria's Book Shelf (ABS), the DreamDog Foundation has set up bookshelves with more than 20,000 books for children in need. Each book is stickered with the ABS logo and can be kept or returned to any ABS site.
"It's such a thrill to see children get excited about reading," Friedman said. "As we are setting up the ABS sites, you can hear the children giving book reviews and telling their friends which books to read."
Jen Kenealy, a DreamDog board member and ABS Coordinator, started the first collection with her daughter Claire's Girl Scout Troop at Maury Elementary School.
"It was fun to go through all our own books and know they were getting new homes with kids who really needed them," said Claire Kenealy, who helped collect thousands of books for the project.
In its first few months, Alexandria's Book Shelf has provided books for children in need at preschools such as: Child Family Network Centers and ALIVE! Child Development Center, Title 1 Schools in ACPS, Alexandria Recreational Centers, Alexandria Regional Housing Authority (ARHA), FACE Centers (Family and Community Engagement Centers), Head Start programs, Child Find and preschool play groups they facilitate, and local shelters.
"We received a Community Partnership Grant from ACPS to help fund their Title 1 schools and FACE Centers," Friedman said. "This was a great start, but the need is tremendous and the number of places requesting an ABS site continues to grow."
Literacy advocates are working with community partners to help bring awareness and support to the program. In one instance, Jane Collins, executive director of Give Out and Give Back, ran a workshop to provide a donation to purchase the first round of Spanish books, which are growing in demand.
"ABS made sure all our kids had books to read all summer long," said Elsie Akinbobola, director of the Mount Vernon Rec Center. "The books where right there and children could take them home whenever they wanted. It was a huge success. ABS was our summer reading program and they have come many times to refill our shelves."
What started out as a small program has grown quickly to provide books from preschool up to the newest ABS site at T.C. Williams High School. But as the program grows, so does the need for support from the community.
"Just today we got a request for a senior site," Friedman said. "Now, we just need to figure out who would love to sponsor it so we can continue to expand, purchase books in Spanish and make it happen for all Alexandrians in need."
For more information on how to donate or volunteer, call 703-535-1545 or visit www.dreamdog.org.
Photo Gallery
Dream Dog Foundation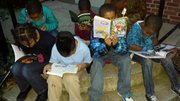 Click Photo for Flash