We've been lucky in Fairfax County. Spared the worst of the Great Recession with its mortgage crisis and unemployment, the County has still had to balance falling revenue and service delivery. Human services, libraries, and parks have all taken a hit—and our school budget, while not cut—has struggled to meet the needs of a growing student body.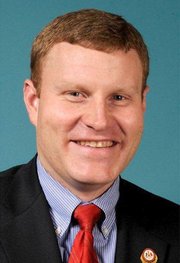 We've emerged from past recessions and fairly quickly returned to the economic status quo, but that's not the case this time. I've done a lot of reading and reflecting this summer and it's clear that the economic trends shaping our financial landscape will be with us for a long time.
In some ways, Fairfax County has become the bank of last resort, picking up programs that the federal and state governments have shed. That's most visible in the area of transportation where we've spent millions on improvements that should have been on the state balance sheet. Most recently in Lee District, the county has assumed the bill for improvements to the congested Telegraph Road/South Van Dorn/South Kings Highway intersections.
Human services is likely to be the next fiscal battleground and we'll see that play out on Sept. 11 when the Board of Supervisors discusses its carryover budget and the Fairfax-Falls Church Community Services Board (CSB) FY2013 shortfall. The CSB's needs are urgent, but then so are the needs of education, other human services, public safety, libraries and parks—to name only a few.
Fairfax County is not alone in this. Across the country, counties are feeling the pressure to assume the financial responsibilities that have been the traditional purview of federal and state governments. The fact that most counties, including Fairfax, are largely funded by property taxes with significant additional funding from the federal and state governments makes for some very difficult fiscal balancing acts.
As we move further into this era, we'll need new financial tools to help us continue the services that have made Fairfax County the kind of place that attracts and retains families and businesses. Finding and using those tools won't be easy and we'll have to take a hard look at what we do and how we pay for it. We can talk about our values all we like, but those values must function in the real world. The questions look easy, but they're not. What's so important to us that we are willing to pay more (taxes or user fees) or cut elsewhere? What's nice-to-have and what's have-to-have? And how do we balance one person's nice-to-have against another's have-to-have?
There's opportunity buried in this serious challenge—the compelling need to more creatively deliver the services that our residents depend on. I'm looking forward to meeting that challenge.