McLean — Sarah Reeves was walking her niece to Haycock Elementary School at around 8:45 the morning of Tuesday, Sept. 11, when she saw a crowd waiting outside the school. As she slowed down to see what was going on, she heard the mournful sound of a bugle playing "Taps" in front of the flags at half-mast.
"It was a very poignant moment, there were some 9/11 stories all over the news in the morning, but hearing 'Taps' and then a moment of silence was a neat way to remember those we lost," she said. "And even though it lasted about a total of 30 seconds, I think it will make an impression on the kids, many of whom weren't even born when the towers fell."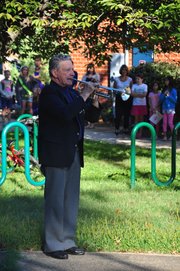 The song was played by McLean resident Ted Smith, a bugler during his time at the Coast Guard Academy. Smith played his first performance of the song at 8:46 a.m. in front of Haycock, which is the time when American Airlines Flight 11 hit the North Tower.
"I've done this the last two years, but both days 9/11 was on the weekends, so I couldn't go to schools, which was my original hope," said Smith. "So the last two years I did it around local shopping centers, and ended up at the fire station."
Smith's next stop Tuesday morning was Longfellow Middle School, where he again played "Taps" and asked for a moment of silence at 9:03 a.m., when United Airlines Flight 175 hit the South Tower.
He made similar stops at McLean High School at 9:37 a.m., when American Airlines Flight 77 hit the Pentagon and at 10:03 a.m., when United Airlines Flight 93 hit the ground outside of Shanksville, Pa. at the McLean Fire Station.
"I have chosen sites that will hopefully gain young people's attention on an early Tuesday morning," Smith said. "And it's appropriate for me personally, because these are the schools my children attended."
Each stop had a second meaning for Smith as well. The Longfellow stop was dedicated to the diversity of the citizens of foreign nations that died that day. The McLean stop was dedicated to the military and civilians killed at the Pentagon.
Smith's final stop at the fire station was to honor the firefighters and policemen that died trying to save others. He also played a verse of "American the Beautiful" while there, as a tribute to everyone who passed away, and for those that have died since.