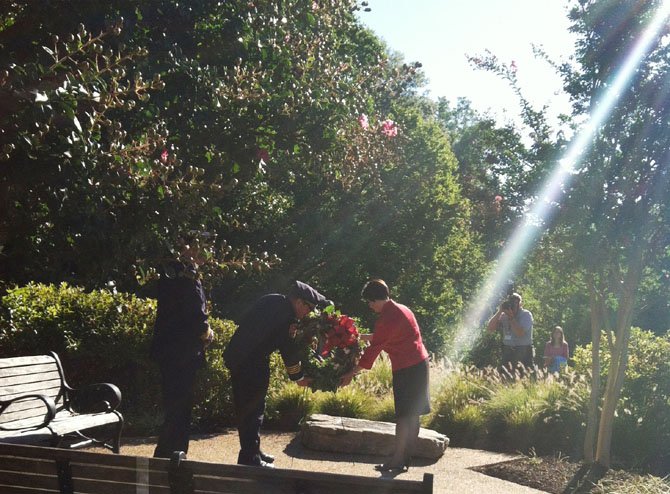 The mournful tone of a single bell tolling three times—once for each site that was struck on Sept. 11, 2001—echoed in the Fairfax County Government Center chambers this morning as community leaders, police, firefighters and citizens gathered to pay tribute to the victims of the terrorists attacks 11 years ago today.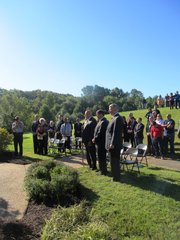 "It was a morning just like this one," recalled Sharon Bulova, chairman of the Fairfax County Board of Supervisors, as she spoke to nearly 100 guests during the Fairfax County 9/11 Remembrance Ceremony. "We had bright blue skies on a crisp fall day on the morning of our national tragedy."
Fire Chief Ronald Mastin and Police Chief David Rohrer also gave brief remarks during the ceremony.
"There are times I wish I didn't know what I know…We lost our sense of security that day," said Rohrer in his remarks. "But we became more resolute and more unified....My hope is that we have more respect for others, more tolerance and peace. We're an incredible tapestry of cultures and diversity in Fairfax County, and that's our strength."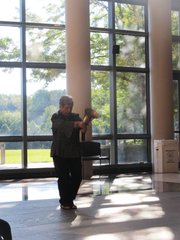 After the remarks, the Fairfax County public safety honor guard led a procession to the 9/11 Memorial Grove, where Rohrer, Mastin and Bulova participated in the laying of the wreath.
The site, located on a ridge above the lake behind the government center, is the first U.S. memorial commemorating the attacks on 9/11 built on public space. Fairfax County Tree Commissioner Michael McMahon designed the memorial.
"This is an area that provides an opportunity for contemplation and meditation," McMahon said at the ceremony.
The ceremony concluded with the Fairfax County Carolers singing God Bless America.