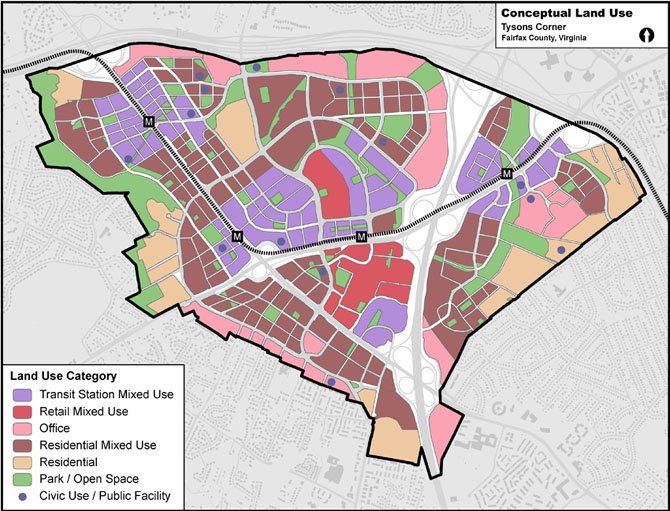 McLean — The Tysons Corner Planning Committee has released the fourth iteration of their recommendations for redevelopment. The set of recommendations, nicknamed "Strawman," lay out the parameters for the anticipated 113 million square feet of development that Tysons Corner is expected to undergo by 2050.
"The core of the ideas that will be used to redevelop Tysons are in Strawman, they're early ideas of how things will eventually be implemented," said Committee Chair Walter Alcorn.
The third version was released by the Tysons Corner Planning Committee July 18, which was followed by feedback from various community members.
On Aug. 27, the McLean Citizens Association released a set of comments in Strawman version three, in which they raised about a dozen questions and recommendations.
Most were directly addressed by county staff, except for a major sticking point that has been raised not only by the MCA, but local residents and the mayor of Vienna.
Strawman calls for Fairfax County to "continue proactively searching for federal, state and other funding opportunities not dependent on countywide funding sources."

However, the MCA has wanted more specific language about a cap on the percentage of redevelopment costs that will be going to county taxpayers.
Their Aug. 27 comments call for a new sentence in the Strawman recommendations, one that would ensure "the county funding burden is no more than 25 percent of the total capital infrastructure costs."
The 25 percent comes from the development of the Route 82 corridor.
In a response to the MCA at the committee's Sept. 6 meeting, county staff said they did not add the 25 percent language because it "has been discussed but not embraced by the committee."
Louis Freeman, a McLean resident, submitted comment to the county where he called for a cardinal rule for all Tysons recommendations: that the county does not commit taxpayers to open-ended expenditures.
"When the [Planning Committee Tysons Corner] and [Planning Commission] make its recommendations to the [Board of Supervisors], please do not recommend actions that could leave the county and its taxpayers with potential unlimited funding commitments and unhappy future surprise," he said.
Vienna Mayor M. Jane Seeman also expressed concerns in comments submitted to the committee Sept. 5.
"Our concerns continue to be about the proposed funding the Federal and State budgets 'not yet identified,'" she said. "If those funds are not forthcoming or even budgeted beyond the [Congestion Mitigation and Regional Surface Transportation Program and Regional Surface Transportation Program] grants, then are Fairfax County taxpayers responsible for the necessary transportation improvements?"
The Strawman recommendations will be heard by the Fairfax County Planning Commission starting their Thursday, Sept. 13 meeting, and is currently scheduled for a vote on whether or not to send the recommendations to the Board of Supervisors.
More information, including the complete Strawman recommendations, can be found at http://www.fairfaxcounty.gov/planning/tysonscorner.htm.