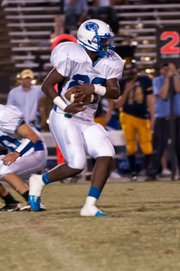 One of the most debated questions in football is whether to pass the ball or to run it. The passing game allows more distance in less time but allows risks from the threat of interceptions and miscommunications. The running game can result in highlight runs but also can cause the team to only advance a few yards.
Based on their early games, the Churchill Bulldogs appear this season to have settled into a clear choice of the running game. Whether by design or by accident, Churchill has used the run to advance to a 3-0 record, including a 23-0 victory at Bethesda-Chevy Chase on Sept. 14. The Bulldogs' running game has resulted in more yardage than the passing game in each of their three wins, and has led to six of Churchill's nine offensive touchdowns.
"We run the triple option for our offense, which is unique in this county," Bulldogs Head Coach Joe Allen said. "That combined with the talent of the guys we have rushing has caused our running game to do well."
Running back Malik Harris, who transferred to Churchill last year from Georgetown Prep, has used that talent to the fullest. The junior has scored three touchdowns so far this season, two of which came in the game against B-CC.
According to Allen, Harris has "great vision" and is "tough to bring down." This causes him to be such an offensive threat during games.
The running back said there is more to his success than his own talent. According to Harris, it is the Bulldogs' linemen that are the biggest part of the running game's success by "making the right blocks" and "opening up holes" for the running backs.
Harris also believes that it is the team effort of him and two others that make the rushing game so hard for opponents to cover. According to Harris, he, Seneca Valley transfer Blake Dove and senior QB Jonathan Lee work to become a triple threat that is tough to beat.
"Johnny has opened up the running game for the running backs big time," Harris said. "He causes opponents to have to prepare for our attack from three different guys: me, Johnny and Blake, which makes it harder for opposing defenses."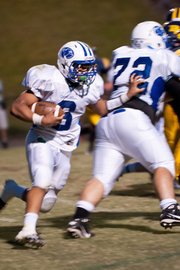 Much of Harris' effect in the B-CC game came in the third and fourth quarters, in which he ran for 148 of his 155 yards. Both of his touchdowns came in the fourth quarter, after the Bulldogs had already made the score 10-0. Though Harris may be a star on the field, according to Dove he's just another fellow player after the game is over.
"In the locker room Malik is a really cool guy," Dove said. "He makes everyone laugh and have a good time. When it's game time, however, he's quiet and he's thinking about what he needs to do on the field."
This week the Bulldogs play Seneca Valley, a team that many Churchill players consider to be one of the team's biggest threats. According to Harris, the Bulldogs must make the most out of the five days of practice before Sept. 21.
"In order to beat Seneca we have to have a great week of practice," Harris said. "We need to come out focused and ready to get the big win on Friday."
Coach Allen agrees that this week's game is important, but stresses that the team must not treat it differently than earlier weeks.
"Though this is a very important game, and we do want to avenge last year's loss at home, we can't change the way we prepare for it." Allen said. "Our approach to Seneca Valley can't be any different than our approach to previous teams."