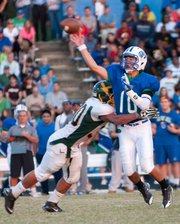 Potomac — After their 28-22 loss to Seneca Valley on Sept. 21, many Churchill football players could be seen with gloomy faces and vacant stares as they walked off their home field at Shepard Stadium. The normally dominant Bulldogs were no longer undefeated, now with a 3-1 record, and the aftermath of that loss could be seen everywhere.
While a perfect season is no longer a possibility, the loss of being undefeated is likely the last thing on the Churchill Bulldogs' minds. The game against Seneca Valley revealed a few critical weaknesses that need to be worked out if the Bulldogs are to reach their ultimate goal: the Maryland 4A State Championships.
One area in which the Bulldogs fell short was defensive effort. The defense allowed Seneca Valley to score 28 points, 19 more than they allowed in the first three games combined. Senior quarterback Jonathan Lee offered an explanation regarding what happened to what has been a point of pride so far for the Bulldogs.
"We are short on linemen this year and our guys get tired, but that's something that can be fixed," Lee said. "Also, some of our defensive backs need to stay more disciplined and get to their assignments. Some people tried to make a play instead of covering their assignment and that ended up in a couple of big plays for Seneca."
According to senior wide receiver and defensive back Dominique Williams, who had two tackles in the game, a lack of control defensively was also an important issue.
"When we play disciplined, no one can stop us," Williams said. "We played very undisciplined on defense and that's how we lost the game."
Though the loss was disappointing to both players and attending home fans, the Bulldogs intend on not letting their winner's mindset change. According to Lee, Head Coach Joe Allen told the team that there were more important things than being undefeated.
"[Coach Allen] told us that our goal was not to go undefeated, but to win states," Lee said. "He wanted us to know that we need to work harder in practice, learn from our mistakes and build off of this loss."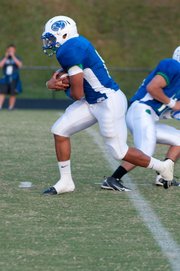 Though in the end the game was a loss for the Bulldogs, the team made the contest exciting. There were multiple lead changes, huge plays, and enough action to thrill the packed stands of Bulldog and Screaming Eagle fans.
One of the more impressive moments of the game for Churchill was a trick play drawn for running back Juwan Hamelin. The sophomore threw a 23-yard pass to wide receiver Dominique Williams that set up Lee for a 1-yard rushing touchdown. According to Williams, the play had been drawn by up Allen at halftime.
"I am sort of satisfied with how the play turned out because it should have been a touchdown, but they ruled me inches away," Williams said. "We do intend on using the play again, but it will probably be later in the season."
Entering the fourth quarter, things were looking positive for the Bulldogs as Churchill had captured a 15-14 lead. Seneca Valley fought back, however, and scored two touchdowns in the final quarter for the win. According to Screaming Eagles coach Fred Kim, finishing games is something that the team has worked on all season.
"Our kids have been working very hard for this moment," Kim said. "We put a heavy emphasis on finishing everything we do, whether it's a workout, a practice, a game or a season. We even have printed out T-shirts with the word 'Finish' on it."
Seneca Valley senior James Jones-Williams was a big part of that fourth quarter comeback. The running back had 176 rushing yards, and scored the final touchdown for the Screaming Eagles on a 12-yard run to put the visiting team up for good.
"James is a great football player," Kim said about Jones-Williams. "He's been with us on varsity for three years now, and to us he really is a proven player."
Kim praised the Churchill team's effort in the game, and singled out a few players that caught his eye.
"They're a very good football team with some excellent players so it's no surprise that they played a competitive football game," Kim said. "The quarterback [Jonathan Lee] had great poise and efficiency, and was tougher running the ball than we expected. No. 23 [Malik Harris] and No. 2 [Dominique Williams] stood out to me as well."
Though the first loss is always the toughest, there are still six more games left in this season. As Churchill prepares to play Gaithersburg on Saturday, Sept. 29, they will attempt to make the corrections necessary to resume their early dominance.