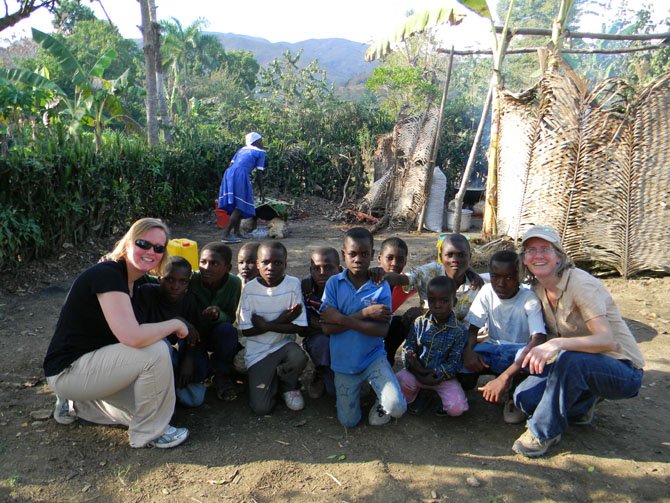 Potomac — Some Potomac students and school officials from St. Andrew's Episcopal School helped make an educational dream a reality for students at a school in Haiti and were on hand when a new school building was dedicated in Civol, Haiti, Sept. 11.
The new building means that about 160 students from ages three to 15 at Christ Roi, a small, rural, co-educational, Episcopal school, can attend school every day, even during inclement weather. Students and families at St. Andrew's raised $56,000 to help pay for the building.
"I was overwhelmed," said Lower School and Intermediate School Chaplain Betsy Gonzalez, who was in Haiti for the dedication. "It is about pride for them. There is a pride that comes from being able to say, 'This is my school.' People said they felt like animals under a tent. The government was not thinking about them. No one was thinking about them, so this was one of the moments when their dream came true."
St. Andrew's School formed a partnership with Christ Roi about two years ago to foster cultural exchange, relationship building, and service between the two schools. At the time, Christ Roi did not have walls, so classes had to be cancelled when it rained.
Earlier this year, six students and four faculty members traveled to Haiti to visit the school. Ginger Cobb, assistant head of Upper School, said "seeing the deprivation Haitians experience on a daily basis, listening to the stories of students from Christ Roi," was a powerful experience for the students.
"The responsibility of helping build ties between St. Andrew's and Christ Roi is a great one, which I take very seriously and by which I am inspired," said Grace Chupka, a senior at St. Andrew's.
Gonzalez added that the relationship with Haiti's Christ Roi School is an outgrowth of St. Andrew's mission to encourage learning through service to others.