The Reverend Tim Heflin will begin his tenure as rector of St. Andrew's Episcopal Church in Burke on Sunday, Sept. 9. Heflin recently served as associate rector and day school chaplain of Trinity Church in Baton Rouge, La., a church comparable in size to St. Andrew's, yet with a pre-k to fifth grade day school of nearly 200. As the associate rrector, Heflin was responsible for the bulk of pastoral care, Christian education for all ages, Wednesday night dinners and programs, youth and young adults and outreach, as well as weekly school liturgical duties. He also served as priest-in-charge as the church went through a rector transition and search process in 2011. Heflin was ordained at Trinity in 2008.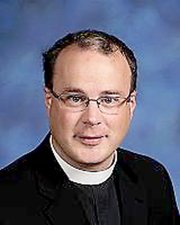 In life prior to ordained ministry, Heflin served in various management and chaplain positions in hospice programs across the country, from Chicago to Colorado, and in the metro New Orleans area following Hurricane Katrina in 2005. He was the director and volunteer recruiter of a medical clinic for homeless and low-income persons in his native Jackson, Miss. While attending graduate school in Princeton, N.J., Heflin completed internships in the Hell's Kitchen neighborhood of New York City and at Trenton State Prison of New Jersey. He has taught on the elementary grade level as well having taught college students and adults.
Heflin studied colonial American religion and philosophical thought as a history major at Mississippi College, where he spent some time running varsity cross-country and track. He earned a Master of Divinity degree from Princeton Seminary in 1994, where he studied secularization theory and civil religion; he was awarded the Edward Howell Roberts Prize (Senior) for preaching while at Princeton. Heflin later focused on liturgy as he earned a Certificate in Anglican Studies prior to his ordination.
A passionate sports fan, especially of the SEC and New Orleans Saints, Heflin likes to read, and enjoys hiking and now more limited running, cooking the evening meals and spending time with his two favorite females—Alexis, his wife and a Latin/Classics teacher and Simone, their 4-year-old yellow Labrador retriever named for Heflin's favorite theologian, Simone Weil.
More like this story