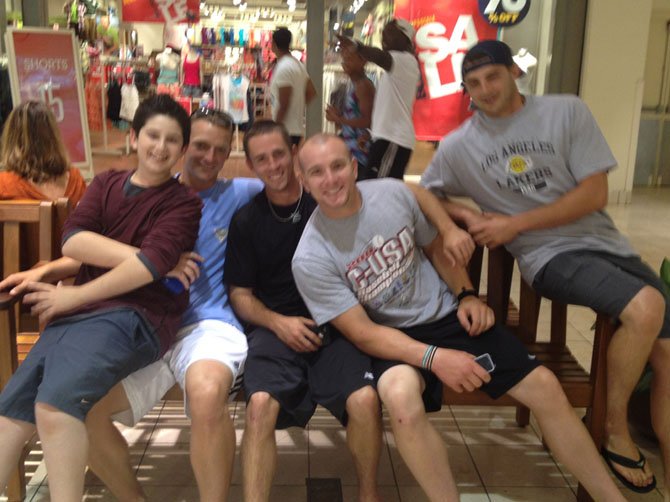 Potomac — Two Potomac boys returned to school this year with a harrowing story of bravery and friendship. Fourteen-year-old Sam Parven and 11-year-old Donny Campuzano say they were selling pretzels for a vendor at a Bethesda Big Train baseball game this summer when a second baseman hit a line-drive foul ball into the stands.
"I heard the people around me scream, 'heads up!' and saw everyone ducking," said Parven, a freshman at Winston Churchill High School in Potomac. "So I covered myself with [one] hand and my friend Donny with [my] other [hand]. He is shorter than I am, so I was protecting his head. The ball came whipping at me and hit me in the wrist, preventing it from hitting Donny's head."
"The ball was likely going 80 miles an hour," said Cari Shane, Parven's mother.
"I was in shock," said Campuzano, who is a sixth grade student at North Bethesda Middle School. "I am grateful to Sam." 
Parven said he received a minor wrist injury. Donny's mother, Jill Campuzano, did not witness the incident and was spared a heart-stopping experience. "The danger was gone by the time I saw my son," she said. "But Sam saved him from a serious injury."
"When I found out from Donny that 'Sam saved my life, the ball was headed right for my head,' I was floored," added Shane.
Both boys were in the stands because Parven was teaching Campuzano the art of vendor salesmanship.
"I sell [pretzels] for Auntie Anne's all summer [and] have sold pretzels every summer now for three years," said Parven. "I really love it because I love talking to fans and making jokes."
Eric Yaffe, the local franchise owner of Auntie Anne's Soft Pretzels, said that he was at his vendor's stand when the incident occurred: "I send Sam out into the stands periodically to sell pretzels. I've always told him, 'Don't turn your back on a batter,' but he's quite a personable young man and full of life and was interacting with the crowd when it happened."
Big Train is a summer baseball team composed of college players from around the country. The team is based in Bethesda and home games are played at Shirley Povich Field. Players live in the homes of local families during the summer. Both Parven and Campuzano's families hosted team members this summer.