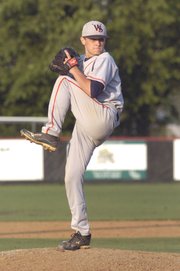 The Lake Braddock baseball team dominated West Springfield during the teams' first three meetings this season, winning each contest by a combined score of 27-3. After two pitches to Lake Braddock leadoff hitter Jack Owens in the Northern Region final on June 2, the Bruins showed no signs of slowing down.
Owens smashed the second pitch he saw from West Springfield pitcher Tyler Tobin for an opposite-field home run to right-center, giving the Bruins a 1-0 lead in the bottom of the first. Tobin's next delivery sizzled behind Lake Braddock's Garett Driscoll.
Was there a message behind the pitch?
"There's no message," Tobin said after the game, cracking a smile. "I was a little wild."
While Tobin wouldn't say it, the senior's pitch placement appeared to announce West Springfield wouldn't be pushed around a fourth time. Tobin spent the next 8 1/3 innings making sure the Spartans stood their ground.
Tobin shut down the Lake Braddock lineup in an extra-inning affair, leading West Springfield to a 3-2, nine-inning victory and the Northern Region championship at Madison High School. The right-hander allowed two runs and five hits in 8 1/3 innings. He walked six, including one intentional pass, and struck out two. He threw 126 pitches.
"Tyler was phenomenal," West Springfield head coach Jason Olms said. "He gave up a leadoff home run to a heck of a hitter and didn't give anything else up the rest of the game. Tyler just competed."
West Springfield took a 3-1 lead in the top of the ninth when senior catcher Donny Haeuptle's two-out fly ball was misplayed by the Lake Braddock center fielder, allowing two runs to score.
Tobin allowed an infield single to Matt Spruill to lead off the bottom half of the inning. After getting an out, Tobin walked Bruin right-fielder Thomas Rogers, leading to Olms making a pitching change. The coach went to senior Connor Tagg, a first-team All-Patriot District selection, who hit the first two Bruin batters he faced, forcing in a run. Tagg then settled down and retired the next two Lake Braddock hitters to end the game.
Olms, a 1994 West Springfield graduate and former Spartan assistant who took over as head coach this season, said the team played well in pressure situations toward the end of the year.
"Every elimination game, they played their best baseball," Olms said. "You can't ask for more than that from a team. They just love being in these situations. They play loose and they have a good time. They all love each other and that's what it takes to win games like this against a great team."
West Springfield trailed, 1-0, with two outs in the seventh inning when senior shortstop Taylor Boyd delivered an RBI single off freshman reliever Matt Supko to keep the Spartans alive.
"No one gave us a chance at winning that [region championship] game. Losing three games [to Lake Braddock] by a combined score of 27-3, no one gave us as shot in the world. Just to upset them like that in nine innings, it was the greatest feeling in the world."

— West Springfield catcher Donny Haeuptle
"I just had to put the ball in play," said Boyd, who hit the ball the opposite way into right field. "I wasn't trying to do too much, just try to make contact at least and hopefully it would get to the right spot. Luckily, it was able to fall."
Supko relieved Lake Braddock starter Michael Church, the region Pitcher of the Year, with one on and one out in the seventh. Supko did not allow an earned run in 2 2/3 innings.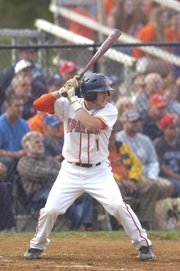 "We weren't predicted to win. We were the underdog and we came in with a lot of confidence, a lot of motivation," Boyd said. "It's just a great feeling --- something really special."
West Springfield's season ended three days later with a 6-1 loss to James River in the state quarterfinals on June 5 at WSHS. The Spartans struggled against Rapids pitcher Nathan Kirby, who struck out 15 in six innings. The left-hander received state Gatorade Player of the Year honors and will pitch for the University of Virginia.
"It was fun. It's also tough at the same time, but you live for that," said Haeuptle, a first-team all-district selection. "You live to face [Division I] pitching and pro prospects. That's what you want to see as a baseball player. You want to see the best, you want to face the best."
Haeuptle said the fondest memory of his Spartan career will be this season's region title. While he was part of West Springfield's 2010 state championship team, the fact this year's Spartan squad accomplished what they did with no Division I athletes makes the region title special.
"No one gave us a chance at winning that [region championship] game," Haeuptle said. "Losing three games [to Lake Braddock] by a combined score of 27-3, no one gave us as shot in the world. Just to upset them like that in nine innings, it was the greatest feeling in the world."
West Springfield finished the season 18-10.
"They accomplished a heck of a lot this year," Olms said. "They weren't one of the preseason favorites and nobody gave these guys a chance, except I think we knew in our locker room. We knew what we could do and we knew if we played baseball the right way and we worked hard that good things could happen."