Centreville — About 10 volunteers from President Barack Obama's reelection campaign met outside Rocky Run Middle School on Saturday before fanning out into Chantilly's Poplar Tree Estates neighborhood to canvass the residents.
Among them were Emi Reyes of Washington, D.C., and 2011 Chantilly High grad Lucy Smith.
"My friend was doing intern work with Obama's local campaign office in Centreville and asked me if I'd help, too," said Smith, taking a semester off from Hampshire College in Amherst, Mass., where she's a sophomore. "I did phone-banking this past week and decided I'd do clipboard canvassing today."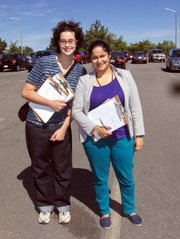 Reyes drives to this area every week to speak with residents about the upcoming presidential election. "I'm a fellow with the campaign," she said. "I've been here three months."
She volunteered a bit for Obama's first campaign in 2008 while living in Vermont and, for a while, hadn't gotten involved this time around. But that all changed when Republican challenger Mitt Romney talked about eliminating Pell grants.
"I went to college on Pell grants," said Reyes. "Romney also said students should be shopping around for the best deal [to finance their college education] and taking loans from their parents — which is hilarious because I can't do that. So that really made me want to volunteer for Obama."
Smith said she talks about election issues with her friends, who mainly believe as she does that Obama deserves a second term. "So I felt like I should spread out more," she said. "I thought the president was going to win. Then I saw in some polls that he and Romney were neck and neck, and I thought, 'Oh, I've got to do something about this.'"
On Saturday, Sept. 15, they joined eight other volunteers from the Washington, D.C., Obama for America office in canvassing Chantilly voters. "Roughly 250 doors are being knocked on by volunteers," said Reyes. "Lucy and I will each do about 40 of them."
"We ask people who they're supporting," continued Reyes. "And if they're undecided, we ask them why."
"If they're voting for Obama, we ask them if they want to volunteer with his campaign," added Smith. "If they're supporting Romney, we say, 'Thank you for your time, and we hope you'll listen to both candidates as the debates come up.'"
CORRECTION: Story has been updated to correct the name of student Lucy Smith's college.