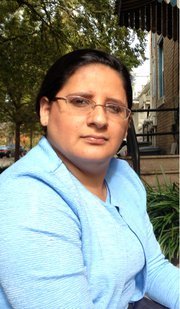 Alexandria — Editor's note: The Connection Newspapers hosted two foreign journalists through a program with the International Center for Journalists for the 10 days up to and including Election Day. The following is based on interviews by Francis Kreimann who is is the international desk editor for La Prensa newspaper in Nicaragua since June 2010.
Virginia citizens came out to vote early this morning to elect their next president after a campaign in which the candidates of the Republican and Democratic party spent at least $2 billion in search of votes.
Some citizens in Fairfax County voted for Mitt Romney, because they hope that Romney will improve the economic situation.
Betsy Rice, a Lewinsville precinct voter in McLean, said that "President Barack Obama did not focus on what Americans need and want."
Rice also hopes that if Romney wins the election, he "achieves an immigration reform that Obama could not." Also, Rice highlighted the importance of immigrants to improve the economy.
Amalia Jordano is another citizen who voted for Romney in Fairfax, because she says "is a business man who is sure of what he does." This is the second election in which Jordano has voted.
Others voted for Obama and said they were satisfied with the way he has led this country in the last four years. Wes Callender said that two specific issues on which Obama should concentrate on a second term are the economy and making more progress in his agenda.
Callender says that Obama "inherited an economic disaster of President [George W.] Bush. It will take more than four years to fix."
Callender, originally from New York, but for many years lived in Fairfax, says that Romney "does not identify with the lives of the poor people and is not interested in knowing."
The Voice of Immigrants
Rosy Cabrera is a native Salvadoran who lives in Fairfax and works as a nanny in Alexandria. She is voting for President Barack Obama, who "not did do much for immigrants [in his first term], but I think it's the only hope we have," said Cabrera in a fast food restaurant in Alexandria.
Although Cabrera will cast her vote for the second time since becoming a citizen (the first was in 2008 presidential elections), said that she will not benefit from the election of one candidate over the other. But she hopes that Obama will have much to offer to immigrants in this country, and it is for that reason that she will vote for him on Tuesday. "I do not benefit if either Obama or Romney win, but I will vote for immigrants, not for me," she said.
Ricardo Reyes is a Honduran native who came to the United States when he was 15 years old, 21 years ago, looking for the "American Dream." He is going to vote for first time this Nov. 6 and is confident that his decision is the right one: vote for Obama. "I am going to give the vote to Obama, I liked what he said and promised," said Reyes, who is hopeful that President fulfill the promise.
Reyes, who is happy "because my vote can make a big difference," believes that "the other candidate doesn´t want to all the immigrants who live here." Reyes lives in Fairfax, and works in a hotel in Alexandria.
Ayderus Hamed is an Ethiopian, more than 30 years old, who lives in Arlington, and works as a taxi driver in Alexandria, and is determined to vote in this presidential election for the candidate, according to him, who will fight for middle class, President Barack Obama.
This is the second election Ayderus Hamed has voted in, the first was in 2008. He also voted for the Democratic candidate at that time, because from the he beginning identified with political, economic and social agenda of the democratic candidate, he said.
This time Ayderus think that although the economic situation in the country is not the best, he doesn't think it will improve with a Republican government with Mitt Romney. Also, he believes that Romney "thinks only of the upper class." Ayderus believes that "Obama has lifted the country out of the economic crisis in which he was immersed."
This Ethiopian man, to whom the family is very important in his life - he is married and has three sons, believes the United States has been built by immigrants, and Obama has given status to immigrants, and this will continue over the next four years, if Obama is reelected this Nov. 6.