Potomac — The sun beamed down from an early autumn sky, making a picturesque backdrop for Saints Peter and Paul Antiochian Orthodox Christian Church's 29th annual fall bazaar on Sept. 21-23 in Potomac. The annual event included music, crafts and Middle Eastern food.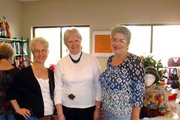 "The entire bazaar was a great success," said Barbara Ellis, a member of the bazaar committee. "We even ran out of some of the food. We ran out of stuffed grapes leaves on Saturday."
Famous for Middle Eastern fare, the weekend event offered attendees dishes ranging from gyros, stuffed grape leaves, kibbee, taboule salad, falafel and spinach pies. "We were able to offer a diverse flavor of food, crafts and other items," said Susan Fannoney, a member of the bazaar committee.
The craft offerings ran the gamut from Christmas ornaments made from pasta to vibrantly colored felted scarves and hats. "With the crafts, we never know what we're going to get," said said Rosalie Nahas, who has attended the church since 1986. "We ask the community to donate items that they can make."
Another weekend highlight was the music, including a live Arabic music performance on Saturday evening. "The choir also sang a few hymns on Saturday and Sunday afternoon," said Ellis. "We sang for people who might have been curious about our religion."
Their only concern, some bazaar committee members said, is preserving tradition: "We're worried that there is not going to be other generations to follow in our footsteps," said Nahas. "Most of the work is done by retirees. They make everything in the kitchen by hand. Who else has time to come to church in the middle of the day to roll grape leaves?"
Committee members say sharing their church with the community makes the effort worthwhile.
"The bazaar is a wonderful opportunity for fellowship, Nahas said. "The greatest sign that the bazaar was a success is that the committee members spent months working closely together on the bazaar and we're all still speaking with each other now that it's over."