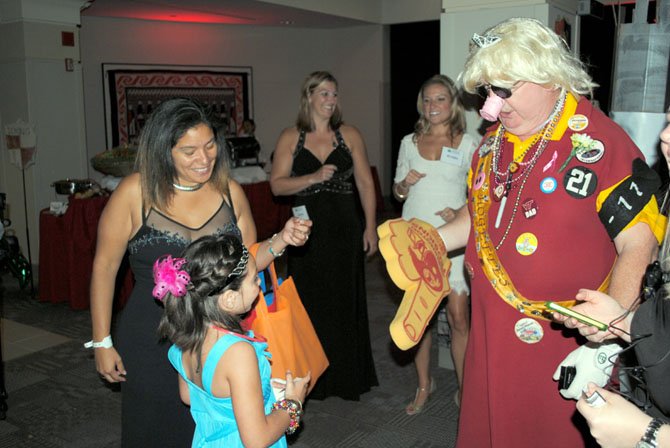 "Not only did she get to go to the dance, she got to go home from the hospital that night. It completely turned her around."
--Madeline Huff
For 7-year-old Abby Huff and her family, it was a night of special memories—and a night to forget about long hospital stays and medical treatments. Abby, a patient at Inova Fairfax Hospital for Children, dressed up in a new gown, shoes and accessories, along with her mom and older brother and sister. Then, they hit the dance floor at the Night of Magic ball.
"It was fabulous!" said Abby's mother, Madeline Huff. "We thought Abby was going to be in the hospital for the long run until the foundation people came along. She so wanted to go to the ball, but the doctors told her she needed to quit seizing first. That day, for the entire day, she didn't seize. Not only did she get to go to the dance, she got to go home from the hospital that night. It completely turned her around."
Night of Magic offers chronically ill patients and their families an evening away from the stresses of being in the hospital. The Annual Ball is one of many outreach events sponsored by Northwest Federal Credit Union Foundation.
The fun-filled event had its beginning in the spring of 2009, when the foundation staff was looking to create a special event to involve its community partner, Herndon High School. It was prom season, and employees thought about teenage patients in hospitals missing out on their prom night. They decided to sponsor a dance event for young hospital patients and their families—to bring the prom to them. The high school helped with making corsages and boutonnieres, and providing event volunteers. Now, four years later and with a wide group of local businesses supporting their efforts, the foundation's Night of Magic has grown into a much-anticipated event for the patients. This year was the first time Inova Fairfax Hospital for Children hosted the event.
"Seeing and interacting with the young patients and their families makes this one of the year's most rewarding events sponsored by our foundation," said Gerrianne Burks, NWFCU Foundation chairman and NWFCU president/CEO. "From our generous donors and student volunteers, to our supportive members and employees, it was a collective effort of many people making a difference. For all in attendance, the memories will last a lifetime."
More than 100 patients, family members and friends attended the event. To help dress for the occasion, patients and their parents were able to select new dresses and suits, which were theirs to keep. Event organizers also collected donations of formal wear, accessories and shoes for use by other family members and friends. And everyone had access to hair stylists and make-up artists prior to the event.