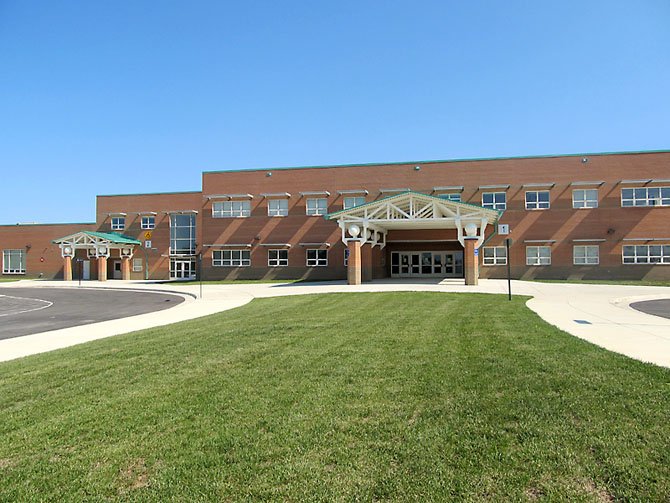 "We really, really like kids here," said Rita Clarke, one of the front office staff at the brand-new South County Middle School in Lorton.
And it shows.
Maybe it's the fact that everything is shiny and new—from the sleek HON furniture to the gleaming Smartboards and laptops—but staff and teachers at the $22 million school radiate energy and enthusiasm when talking about the school and the 1,300 seventh and eighth graders who inaugurated the building on Sept. 4.
"Everyone here has a can-do attitude," said Principal Marsha Manning, who hand-picked her staff from South County Secondary School, where she worked as seventh grade principal for seven years. "What's really special is there's a strong sense of community. The community advocated for this school for a number of years."
Manning said the school's mission is to make every student feel like capable, connected and contributing members of the community.
"We want to inspire them, to make what's happening in the classroom connected to the real world," Manning said." It's our jobs as educators to meet students where they are—whether they are advanced or need more help—and support them in learning."
OVER THE SUMMER, Manning, a former English teacher, had her teachers read the motivational bestseller "Mindset—The New Psychology of Success," by Carol Dweck, a renowned psychology professor at Stanford University.
Manning believes in a "growth" mindset, which teaches that brains and talent are just the starting point, and basic abilities are developed through dedication and hard work. The "growth mindset" espouses a love of learning and resilience.
"We want to help student get excited and prepared for high school," she said. "It's amazing the impact a teacher can have, and that's what we want here." Manning said students were already excited about choosing their mascot—the Mustang—and the band teacher was going to teach them how to play "Mustang Sally."
"We have a lot of creative teachers excited about the opportunity to teach," Manning said.
Born in Illinois and raised in Florida, Manning attended Florida State University. She majored in medical technology, but decided to become a teacher when she became inspired by one of her English teachers.
In 1987, she moved to Springfield with her husband and three children, and taught English at Washington Irving Middle School from 1990-1999. She received her master's degree in educational leadership from George Mason University in 1999. Her administrative experience includes working as an assistant principal at Mark Twain Middle School before helping to open the brand new South County Secondary School.
Her staff describes her leadership style as "hands-on."
"She doesn't spend much time in her office," Clarke said. "What's nice is that everyone knows she wants us to be here. She has a great relationship with the students and the community."
HER TEAM includes Assistant Principals Heather Bousman and Gordon Stokes. Bousman, who has a master's degree in special education from Longwood University in Farmville, Va., and a master's in educational administration from George Mason University, chaired the South County High School Special Education Department.
As an assistant principal, Bousman will oversee the special education and the science, fine and performing arts, and physical education departments.
Stokes received his master's degree in history from the University of Virginia, and served as an assistant principal at Luther Jackson Middle School for the past four years. At South County Middle School, he will be responsible for the social studies, math and world languages departments.
"This is an awesome team," Manning said. "Our teachers impact students' lives on a daily basis, and we're ready to support them in any way we can."