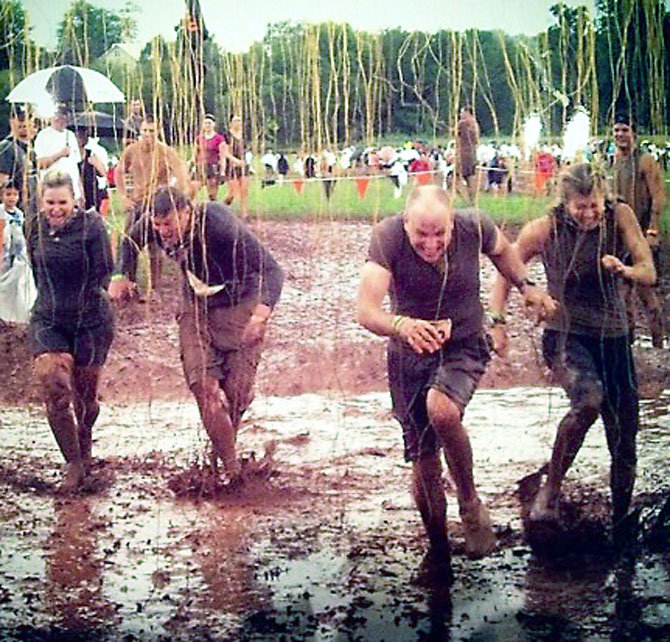 Call it charm or charisma, some people just naturally light up a room when they walk into it. Grace Ann LeGros of Centreville was one of those people.
"When Grace walked into a room everyone knew she arrived and smiles swept over their face," said her brother, Tom Bresnahan. "She was the most vocal of the children and always cracked jokes whether it was appropriate or not. Out of the six kids she always got 'the look' from Mom and the frown from Dad to keep it down. But how do you stop a room full of people from laughing?"
On Jan. 12, 2012, Grace LeGros, 54, died after an 18-month battle with brain cancer. Her close-knit family was devastated.
On Sept. 8, her family formed "Team Grace," in her memory, and competed in the Tough Mudder race in Fredrick, Md. Tough Mudder, known as the "toughest endurance race on the planet," supports the Wounded Warrior Project.
"We wanted to find a way to honor Grace's fighting spirit. She demonstrated the same characteristics a Tough Mudder pledges. She never complained, she always helped others, she overcame all of her fears, and put team—or family—first," said Richard Thomas, her brother.
UNLIKE OTHER traditional endurance events, Tough Mudder consists of 10-12 mile trail run over rugged terrain, featuring steep inclines, water hazards and 18-25 military-style obstacles testing one's toughness, fitness, strength, stamina, mental grit, teamwork and camaraderie.
"Grace was one Tough Mudder tackling her brain cancer. We know Grace was looking down on us as we competed in this crazy event, keeping her spirit alive," said sister Kim Thomas Krongaard.
Born in Bethesda on Feb. 6, 1958, LeGros was the oldest child of John and Mary Bresnahan's six children and grew up in Fairfax County. She married Scott LeGros in 1987, and had a daughter, Marygrace, 23, whose college graduation she was able to attend while battling her cancer.
The oldest of six children, Grace LeGros was "always in charge and always there" for her mom and dad, her husband Scott, her daughter Marygrace, her brothers and sisters—Betsy, Richard, John, Kim, Tom—and extended family and friends.
LeGros graduated from Robinson Secondary School in 1976, and pursued an art degree at Northern Virginia Community College. She also worked as a Fairfax County Animal Warden for 10 years after graduating from the Fairfax County Police Academy. She had a passion for animals, especially horses.
LeGros loved to ride horses in the Virginia countryside, and dreamed of one day owning her own horse farm, her family said. But more than anything, she loved spending time with family and friends at the beach.
"If we were to really have a Grace moment it would have to be Christmas mornings and Thanksgiving dinners, those were her moments she shared with the family which meant the world to her and to us," said Tom Bresnahan, her brother.
IN THE SUMMER OF 2011, Grace went in the hospital for routine gall-bladder surgery. After the surgery, she had difficulty waking up from the anesthesia. That was the first time her family knew something was wrong. A brain scan showed she had an aggressive brain tumor.
"We all felt such an overwhelming sense of helplessness," said Mary Bresnahan, Grace's mother. "But she was a fighter. She never complained."
Instead, Grace inspired her family and friends with courage, determination and compassion throughout her battle with cancer.
Krongaard said the family chose the slogan—"Cancer Cannot Conquer The Spirit"—for the "Team Grace" T-shirts because it embodied Grace's strength and determination as she fought cancer. Cancer could take her physically, but it could not crush her spirit, her family said.
"She was a trooper and 'Team Grace' will continue to train for future races with that motto in mind. It's our way of keeping Grace's spirit alive," Tom Bresnahan said. "It comes back to family and friends. It was her love for us that carried us all through this difficult time."
Throughout her trial with cancer, LeGros' family said she taught them many lessons.
"It takes tremendous courage for cancer patients in not only dealing with the realization of your diagnosis, but, in Grace's case, the acceptance that there is no cure but there is always hope," Mary Bresnahan said. "She taught us to embrace each day and know that there is so much kindness out in the world that will open up to you in your struggle with cancer or other serious illnesses. Do not be afraid to accept it."
Grace's LeGros family did just that.