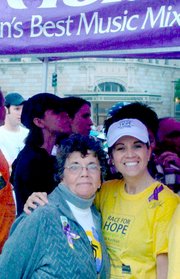 The annual Race for Hope in Washington, D.C., raises money for brain tumor research and, for 10 years now, the Rabbi Joseph P. Weinberg Triumph of Spirit Award has been given at that event to a deserving recipient.
This year, the award was presented May 5 at the race's starting line to Fair Lakes resident BethAnn Telford. Although battling brain cancer herself, she created her own fundraising organization, Team BT, which has raised hundreds of thousands of dollars for the National Brain Tumor Society and Accelerate Brain Cancer Cure.
Telford was diagnosed with an inoperable brain tumor in 2005, but she didn't let that stop her from becoming a marathon runner, tri-athlete and Ironman competitor. She still races to raise awareness and funds brain-cancer research. Her participation in the 2012 Race for Hope-DC raised $105,000.
Weinberg was the senior rabbi at the Washington Hebrew Congregation, but died of a brain tumor in 1999. He often said, "In life, we cannot always control certain events that we are faced with. But how we face such circumstances, how we choose to live our lives—that is in our control; that is the triumph of the spirit."
At the beginning of the May 5 event, Weinberg's wife Marcia and their grandchildren presented the award to Telford, saying, "Your actions, BethAnn, the way you are living your life despite a very rocky road, make you a hero in the eyes of so many admirers."
"Overcoming obstacles that many cannot even imagine makes you the perfect 'Triumph of the Spirit' recipient," she continued. "Thank you for allowing us to honor you, BethAnn. Although in reality, we are the ones who are honored by knowing you."
Accepting the award, Telford held it up high and waved it at the crowd. "This isn't about BethAnn Telford," she said. "This is for you—for those that are out there fighting. We appreciate everything you do throughout the year to raise money. And I share this award with each and every one of you."