Chantilly — Chantilly-based Training Solutions, Inc., co-owned by Michael and Sharon Ferraro, is celebrating its 17th anniversary this month.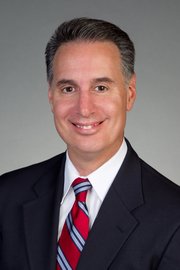 Together with their team of consultants, Training Solutions provides diverse performance development training programs, online job matching and 360 feedback programs, executive coaching and workforce grants consulting for large and small companies across the U.S. and internationally.
Michael Ferraro became chairman of the Greater Reston Chamber of Commerce in June 2012. Both Michael and Sharon Ferraro are graduates of Leadership Fairfax. They also formed the Bite Me Cancer Foundation two years ago, along with their teenage daughter who is a thyroid cancer survivor.
Training Solutions, Inc. is a member of the Greater Reston Chamber of Commerce, the Fairfax County Chamber of Commerce, the Dulles Regional Chamber of Commerce, Northern Virginia Technology Council, and the American Society of Training and Development.
Michael Ferraro is also a member of the Northern Virginia Technology Council TechPAC and the Marymount Board for the School of Business.