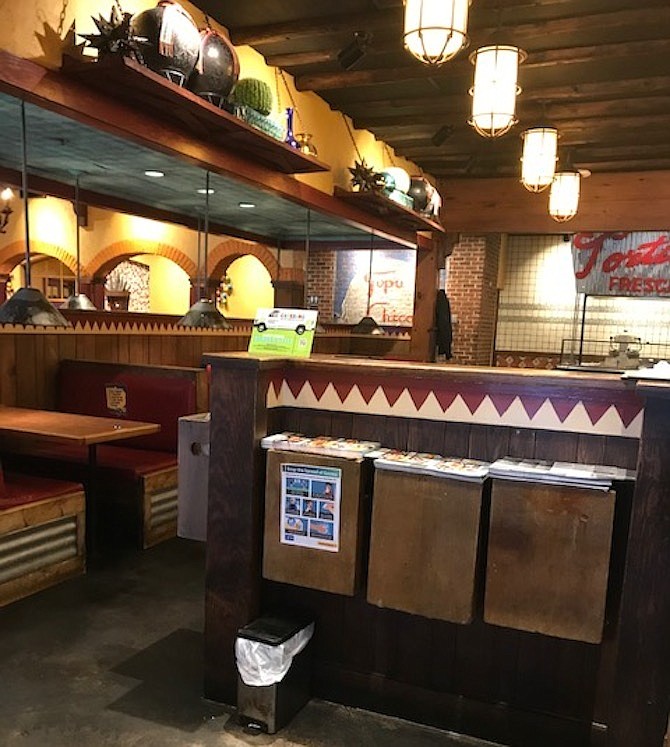 Looking for something to brighten your spirits and spark your appetite? Head to Reston's On the Border Mexican Grill and Cantina where its cheerful décor will send you on a virtual visit to Mexico and all places Latino. And when you see large tour buses parked out front, you understand how appealing the restaurant's lengthy menu is.
Once seated, patrons are offered a bowl of crisp-fried tortillas with individual containers of salsa, and the chance to order beverages, from water to margaritas (how about sips of a Barrel Aged "Rita?"), beers, cocktails, and wines.
Patrons can ask the staff about good starter choices, but Grande Fajita Nachos come with fried tortilla chips topped with refried beans, a meat choice, and melted mixed cheese. These make a good choice, and follow up with a bowl of freshly chopped avocados formed into guacamole and ask for a side of chips. For a guacamole showcase, ask the staff for Guacamole Live. With this, a staff member makes guacamole at the table with chopped avocados, tomatoes, jalapeños, cilantro and lime juice. A bit pricey, but surely worth the culinary drama.
On to the main course: with so many choices, the question is, where to begin? Quesadillas come in two choices—fajita with chicken or steak or brisket. Fajita choices range from grilled chicken, steak, shrimp, or portobello mushrooms to specialties that include Monterey Ranch chicken; Border Smart chicken that comes with black beans and more but no melted cheese; and then the grand slam, the Grande Fajita Trio packed with grilled steak, chicken, and shrimp.
The menu also includes burritos, chimichangas, and enchiladas plus an array of tacos that include Dos XX fish. But if patrons are looking for savory fare but lighter in calories, the kitchen offers two salad bowls, chicken tortilla soup, and a selection or dishes called Border Bowls. An outstanding and rather filling salad is the Grande Taco Salad that comes with cooked ground beef or chicken tinga on a bed of shredded lettuce, cabbage, mixed cheese and guacamole topped with flour tortilla chips and a choice of dressings.
The Border Bowl choices include grilled chicken steak, shrimp, or portobello mushrooms layered on cilantro lime rice, black beans and bell peppers with pico de gallo and sliced avocado. These are a satisfying meal in one, and have a decided Latino flair.
As for desserts, who doesn't love a caramel cheesecake, but for a sweet slightly more Mexicano, try the sopapillas, Mexican pastries that are fried dough sprinkled with cinnamon sugar and served with honey and chocolate dipping sauce. Yum…
Note that restaurant specials include Sunday, Fiesta Trio; Monday, Endless Enchiladas; Tuesday, Taco Fix; and Wednesday, Fajita Fest.
On the Border Mexican Grill and Cantina
11880 Spectrum Center, Reston, 571-485-7929.
Hours: Sun.-Thurs., 11 a.m. – 9 p.m.; Fri., Sat., until 10 p.m.