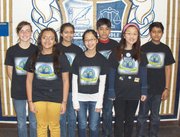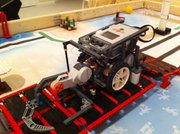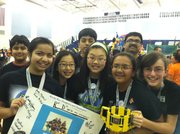 After capturing the FIRST Lego League state championship, Rocky Run's seventh-grade team, R2D2, is ready to take on the world. The five girls and two boys are heading to St. Louis to participate, April 24-27, in the world championship.
Comprising the team are Mara Casebeer, Rachel Hong, Medhini Mankale, Arnav Mehra, Kush Mittal, Michelle Kim and Aishani Pal. And they're all looking forward to the upcoming competition.
"Getting to state level is really quite an accomplishment," said Aishani. "The world championship will be cool because we'll meet people from lots of different countries."
Actually, their journey began in June 2012 when they started working on their project. They had to identify a challenge faced by senior citizens and develop an innovative solution for it. So last summer, they organized their tasks and familiarized themselves with programming a robot — which they named Yoda.
But step one was research. "We interviewed our grandparents, neighbors and other people, age 65 and over, and found out their biggest problem was strength," said Arnav. "So we came up with an exercise wheelchair. It has stretch bands and motivational tools, plus a screen telling what age you're exercising at."
The state competition, Dec. 8-9 at JMU, had four aspects. "One was the presentation of our project, the wheelchair," said Mara. "Then the judges gave us another challenge to solve with our teamwork, abilities and skills. We also had to design and build a robot out of NXT Legos; then it had to perform and overcome different obstacles."
"You also have to tell the judges how you designed your robot and what your strategies were," added Michelle.
So, said Aishani, "You have to explain the idea behind how you made it — for example, why you chose that type of wheel."
Michelle said there's a block grid on the computer program they used for programming their robot. Arnav said it makes the robot move in different directions.
"The difficulty is how to create the pattern," said Aishani. "You have to decide how many seconds it can go forward or backward and the distance it goes. We also have tools, such as sensors, that we attach to the robot."
Kush said the sensors "help the robot do the program. Some of them are touch and color sensors."
"The sensor goes onto the robot's brain, which controls it," said Medhini. "The motors also get plugged into the brain. We program the sensors on the computer and, during competition, the robot can sense the particular obstacles."
Kush said there are 16 obstacles or missions for the robot to complete in 2.5 minutes. For example, he said, "There was a Lego course and the robot had to push a stick to propel a 'dog' to our robot's home base." Additionally, said Rachel, the robot had to climb a wobbly bridge.
But it couldn't tilt, or the robot would topple. "And if the robot touched the ground, you'd get zero points," said Mara. If it didn't, the team received 65 points.
Aishani said the hardest part was having their robot kick a ball and knock down bowling pins. And Michelle noted that, if time allowed, they could repeat missions they initially failed or didn't do.
"You can't touch the robot while it's competing," said Aishani. "But if it's stuck and you have to, you lose 5 points. Each of the competition's four parts was equally weighted toward your score."
And, said Mara, "That's what's cool about FLL competition — there's an equal amount of emphasis on the robot and the science parts so it appeals to more people."
The team members each had different strengths and weaknesses but, said Kush, "We share our knowledge with each other and that's what makes us such a strong team."
For example, said Mara, "Michelle is good at programming and Aishani is good at speaking; so together, they're an awesome team."
Michelle said core values are part of the competition's teamwork section. "One of them is gracious professionalism," she said. "For example, "We're respectful to the other teams competing."
Another core value, said Arnav, is "having fun, even though you're competing and doing hard work, and we did. I really liked the project and talking about our solution."
Mara said the team's varying levels of experience were a plus. "We're a team of veterans and rookies, which also makes us stand out," she said. "Diversity's good."
Rachel liked the variety of obstacles their robot had to tackle and Medhini enjoying doing the programming and then seeing the robot carry out its missions in the state competition.
"I also liked meeting the other teams and seeing their projects," said Medhini. "We traded candy, souvenirs, stickers and buttons, and that was also gracious professionalism. It showed that, even though we were competing with them, they were great, too."
At states, said Arnav, "It was good to feel that, finally, our hard work paid off." Added Medhini: "It was exhilarating; we were screaming with joy."
Their coach, Aishani's father, Jayant Pal, was also proud of them all. "The team is really strong and did a great job to achieve what it did," he said.
Pal was also pleased that the team worked on a real-life issue with minimal directions. He said they worked hard on the senior-citizen project, "talking to professionals — doctors and NIH aging experts — so they'd understand the challenges and come up with an innovative solution."
To create, essentially, a gym in a wheelchair, said Pal, they also had to contact vendors to see if anything like it was available and also devise marketing for it. "One vendor in Canada makes something similar and he was extremely impressed that the kids came up with this," said Pal. "They even developed three models — standard, deluxe and premier — depending on the features."
Aishani said the whole experience taught them to work and think as a team, "which will help us work together with others in the future." Mara said she also learned about her team members, "so now, they're also my friends."
In regionals, Rocky Run was one of 610 teams in its 12-14 age division and came in second. In the Virginia-Washington, D.C. State Championship, it was one of 40. At the world competition, it'll be one of 89 teams — 43 from the U.S. and 46 from other countries.
"We'll have to improve in all four aspects of the competition because the judges at the world championship will expect more," said Kush. But, added Mara, "Our goal isn't to win, but to have fun and do our best."