When the homeowners of a Reston, Va., colonial home decided to turn a breezeway that connected their main house into a detached two-car garage, their first thoughts were relaxation and entertainment. The primary concern of the design team they hired was combining safety and style.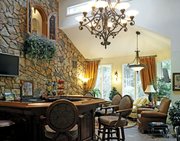 "The main challenge on this project was framing the cathedral ceiling over the sunroom, given that it is about 24 feet up. Doing that well and safely is a true testament to our team," said Bruce Case, president of Case Design/Remodeling, Inc., who designed and built the project.
The homeowners' original goal was to build a detached garage with a breezeway that connected to the main house. Once construction was underway, the project expanded and the space above the garage became a living space with a bathroom. The breezeway became an open, two-story sunroom with a bar and powder room.
The homeowners decided to transform the space between the home and the garage into a guest suite that was ideal for hosting guests. The result also includes a two-story entertainment room with a bar.
"The breezeway turned into a sunroom and then blossomed from there," says Sean McIarty, senior project manager at Case Design/Remodeling, Inc. "The garage is now the man cave, while the space above the garage includes a bedroom, bathroom, office for him and art studio for her. The studio leads to a deck with a cabana below."
The main level of the addition houses a horseshoe-shaped bar, sitting room with heated stone flooring, waterfall feature and clerestory windows that overlook the pool. The manufactured stone wall leads to an arched window that opens to a landing above the garage and into the new guest quarters.
"The 28-foot-high ceiling made this project interesting," adds Case carpenter Tom Barber, who, along with carpenter David Frock, worked on the project over the course of four months.
The bar area includes a commercial refrigerator, two televisions and pool access. "The house is deceiving on the outside," said Barber. "The colonial facade masks the extraordinary, Italian-inspired interiors with this gracious new entertainment wing."