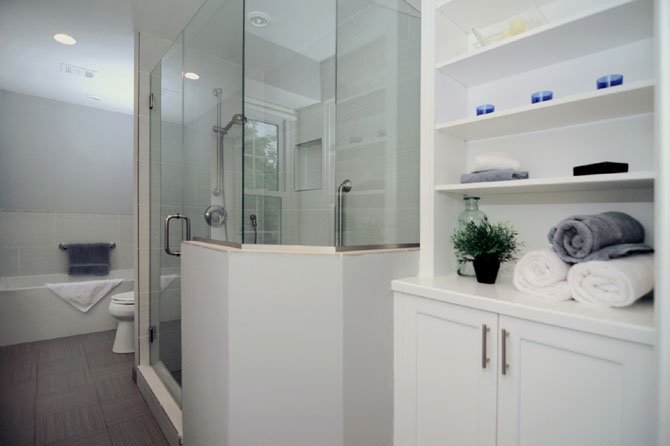 Alexandria — Once a modest room reserved for bathing, the bathroom has become a showcase for cutting-edge design and luxurious materials. One Alexandria family discovered this when they decided to remodel the long, narrow master bathroom in their colonial home.
"Our old fixtures were wearing out," said homeowner Pat Smith. "Also the bathroom layout was choppy and dark. There was plenty of square feet, but [the space] was inefficient."
The family hired Arlington designer Allie Mann of Case Design/Remodeling Inc. to transform the disjointed, utilitarian space into an oasis with a larger shower and additional areas for storage.
"The client's request for the bathroom remodel was a more open, connected plan," said Mann. "Before the vanity space didn't feel connected to the rest of the bathroom … and the [entire] space felt disconnected. The client wanted dual vanities … and a more modern feel."
"The client's request for the bathroom remodel was a more open, connected plan"
— Allie Mann, project designer
Smith wanted to add sparkle to the bathroom without the inconvenience of a complete destruction: "We wanted … a space that had better flow and lighting without having to go through whole-scale demolition. So the plumbing stayed mostly in the same location."
The Case team did remove an interior door in the bathroom space, however. "We reoriented the swing of another existing door to make the space feel more connected and open," said Mann. "We expanded the shower footprint by relocating a second sink. This gave the client the dual vanity she was looking for."
Senior project designer Steve Scholl said, "Because of the challenging existing layout, selection of materials and finishes were key in making those challenges disappear."
The new bathroom is outfitted with Kohler plumbing fixtures, a frameless glass shower, porcelain tile, Crystal cabinets and Cambria countertops. "We selected finishes that were current, modern and transitional, and low maintenance," said Mann.
Smith purchased matching vanity mirrors, which Mann said, "Really completed the vanity look and pulled the space together."
Mann said that developing a good working relationship with the client was a key to achieving the homeowner's desires for the room. "This project was a challenge we were excited to tackle," she said. "We had a great rapport with the client from the start. We were in tune, in step with the concept and felt we could really deliver what [they] were looking for."