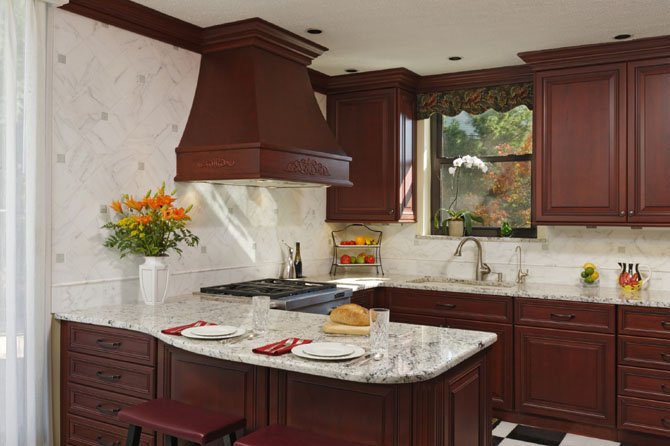 From outdoor patios with the comforts of indoor family rooms to a stark white bathroom replete with Carrara marble flooring, local designers said they've created some spectacular living spaces in 2013. Their personal favorites may be surprising, and include a lot of kitchens and bathrooms.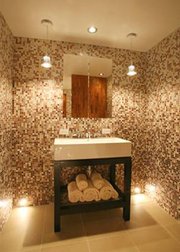 GUY SEMMES, of Hopkins & Porter Construction, Inc. in Potomac, named a whole house renovation that resulted in a clean, modern space as one of his company's top jobs. The remodel included a white kitchen with stainless steel appliances.
"It used to be a galley kitchen and we added an 8-by-10-foot addition to make it larger," said Semmes. "The owner wanted to make things accessible with open shelves, rather than hiding them with cabinetry."
The master bathroom, also white, has Carrara marble tile floors, his and her sinks and a renovated claw foot tub that was reglazed and painted black.
"Everything [else] about the project is white," said Semmes. "That is an influence of the owner. She picked a lot of the tiles and fixtures."
The house also has a children's bathroom that features a playful, colored tile shower stall, a floating vanity and walk-in closet. "The architect, Kai Tong, has a modern flavor, which tied in well with the homeowner's style," said Semmes.
Semmes says remodeling a 1960s Bethesda home is also among his company's top projects for 2013. "The fireplace was in the living room and the kitchen was half the size it is now," he said. "We gutted the house. We opened up the wall going into the den and added a first floor powder room."
Maple cabinetry in a light, natural finish now hangs in the new kitchen. "There are also marble countertops in grey and tan with a little bit of color like red and green for interest," he said.
MCLEAN-BASED Joshua E. Baker, founder and cochairman of BOWA Builders, Inc. names two condominium projects as his company's best.
"As some of our clients are moving in closer to the city and sizing down, they're looking to bring with them the luxury and residential feel of their single family homes," said Baker. "Projects range from pull-and-replace kitchens to remodeled master suites to whole-unit renovations."
For example, the kitchen of an Arlington condominium includes a custom-designed range hood that was built on site, and a space in Chevy Chase, Md., features intricate woodwork. Baker says these rank among his company's chicest spaces.
"The [Chevy Chase] project really shows how a simple, boring condo hallway can be transformed into a beautiful, customized gallery," said Baker. "Custom woodwork in the walls and built-ins … in the hallways maximize space."
KEN NIES, owner and cofounder of Two Poor Teachers in Reston, says an Arlington bathroom remodel ranks as his company's top project. His crew installed, "floor-to-ceiling glass tile that went from dark to lighter, and incorporated 'wood tile' (tile that resembles hardwood) for a rustic feel," Nies explained. "[The space] was modernized with LED lights. The shower is a steam unit that was enclosed with a frameless glass pivot door. A Jacuzzi tub and pendant lighting spruced it up even further."
JOE STARKEY, of Old Town Kitchen and Bath in Alexandria, also gives an Arlington space the top honor. "We had many projects throughout 2013, but the one that comes to mind was a kitchen on Washington Boulevard in Arlington," he said. "By expanding slightly into an adjacent area, we managed to turn a dated, awkward kitchen and miniature powder room into fully functional, comfortable, useable, family-friendly area."
Starkey said that the homeowners have children and trying to prepare meals had become difficult. "By completing the redesign, we were able to make a genuine improvement to someone's life," he said. "That makes for a memorable job."
BILL MILLHOLLAND, executive vice president of Case Design/Remodeling, with offices in Bethesda and Falls Church, said there are three projects that that he considers among his company's best work of 2013.
He gives a nod to a McLean renovation by Allie Mann and Steve Scholl: "This project involved the total renovation of a kitchen, including opening it to the family room and breakfast room, as well as creating a mudroom," he said. "The scale of the kitchen as well as its crisp, all-white, transitional look and high-end finishes make it a standout project."
Also noteworthy, said Millholland, is a Falls Church project by Jim Wrenn. The owners wanted to improve their home's layout and add amenities such as a wine cellar. "This project involved several additions, including digging out a basement to add a wine room [with] a staircase up to a new exercise area, screened porch and patio," said Millholland. "The renovations also include a reoriented staircase leading from the family room to the upper level bedrooms, including a new master suite."
A condominium renovation by Valery Tessier that included both a kitchen remodel and a new master bathroom is also among the most impressive spaces completed by Case in 2013 says Millholland. "The contrast of the rich espresso cabinet stain with the cool palette of the countertop, backsplash and walls is very soothing, but gives an edge to this kitchen," said Tessier. "The galley layout with the peninsula offers multiple work areas and the open shelves lighten up the corner."
BETH WALTERS, spokeswoman for Sun Design, Inc., which has offices in Fairfax County, listed projects in Vienna, Great Falls and Oak Hill as the company's best for 2013.
In Vienna, a construction project tied a home's indoor entertainment space with the outdoors. The new space includes a rear, screened porch with a pizza oven, lounge and dining areas. Tile flooring, recessed lighting, pendant lighting, a chandelier, a tray ceiling with handcrafted wood trim and an outdoor surround sound give this outdoor space the feel of a cozy family room.
In Oak Hill, a kitchen renovation created an open floor plan that allows the cook to move freely while guests relax at an expansive, triangular center island. The kitchen includes a coffered, wave accent tile featuring both Carrara mosaic tiling and black marble borders over the range, two full-sized refrigerators in the kitchen, one hidden behind cherry wood facing to match the cabinets.
A Great Falls master bathroom is another project of which Sun Design is proud, said Walters. The new space, which includes his and her vanities, a large walk in shower and foot ledge for shaving, allows two people to use it simultaneously.