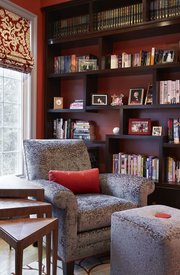 When a family of four, which includes two young daughters, decided to create a dedicated reading space in their home, they wanted to blend serenity and style. The couple enlisted the help of interior designer Debbie Wiener of Design Solutions.
"When I first started working with this family, the [room was] builder-beige and housed a diaper changing table, stroller and really was a catch-all to keep the foyer clear," said Wiener, who hosts the "Wiener to the Rescue!" segment on NBC's Steve Harvey Show. "There were no bookcases and no furniture."
Wiener worked with the family to create a library space, with comfortable seating, to house the family's book collection. She started by creating shelving.
"First off was to design a unit to hold books with a small desktop as well. We made it in walnut and asymmetrical to keep it from looking too serious and traditional," said Wiener, whose company won "Best of Houzz 2013" both in the design and customer service categories.
When it came to a color scheme, Wiener decided to go bold. "The wife and I both wanted to experiment with color, so we added orange walls, red fabric and a red rug," she said.
The family's new library also holds reading chairs in gray leopard print with red contrast piping. "The room looks totally different and indeed houses all their books with ample seating for reading," said Wiener. "Is it [as] quiet as they wanted? That's beyond my talents!"