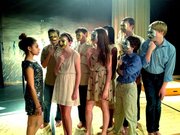 George Washington Middle School dramatic arts students will be performing "Once on This Island," a musical retelling of "The Little Mermaid" based on the 1985 novel "My Love, My Love; or, The Peasant Girl" by Rosa Guy, set in the French Antilles in the Caribbean Sea. The story concerns a peasant girl on a tropical island, who uses the power of love to bring together people of different social classes.
The musical score ranges from Calypso, Reggae, and Salsa to classic Broadway show tunes. This is a family-
friendly production for children and adults of all ages.
Performances are Friday, April 12, 7 p.m.; Saturday, April 13, 1 p.m. and 7 p.m.; Friday, April 19, 7 p.m.; Saturday, April 20, 7 p.m.
Tickets — $5, cash and check only — are on sale 45 minutes before each performance.