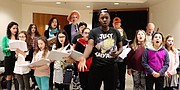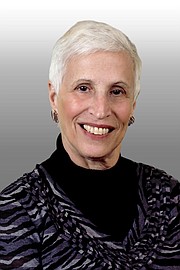 Disney's musical tale of romance between Ariel, a mermaid princess who dreams of becoming human after falling in love with Eric, a human prince, will come to life this weekend when the Har Shalom Players take to the stage.
The fairy tale, loosely based on the Hans Christian Anderson tale, brings the story of true love's triumph to life with imagination and song.
With a cast and crew of more than 80 members, it's a multigenerational, performance, a hallmark of Har Shalom Players.
"They work on involving all age groups," publicist and member of the Players Barbara Kaplowitz said. "You will see parents and their kids in the show. My son and I have been in many."
This year's production is sponsored by the family and friends of Marsha Schwartz and is dedicated to the memory of this beloved and long-time member of Congregation Har Shalom and a shining talent in many past HS Players' shows.
The performance includes favorite songs by eight-time Academy Award winner, Alan Menken, lyrics by Howard Ashman and Glenn Slater including "Under the Sea," which won an Academy Award for Best Original Song, "Kiss the Girl" and "Part of Your World." Overall, the musical won a second Academy Award for Best Original Score.
In addition to Ariel and Eric, familiar characters Flounder, Scuttle and Sebastian float across the stage doing their best to help Ariel while intervening in the rivalry between King Triton and Ursula, the sea witch.
The musical will be staged in Congregation Har Shalom's Burke Sanctuary, 11510 Falls Road. Performances are scheduled for 8 p.m. Saturday, Jan. 25 and 4 p.m. Sunday, Jan. 26.
Tickets are $22 for adults and $18 for children 12 and under.
They may be purchased online at www.harshalom.org/mermaid. For information on group sales - 15 or more tickets - email play@harshalom.org or call Stew Remer at 301-233-1996. Ticket pick up and check-in begins one hour prior to the show.
Disney's The Little Mermaid is the 15th annual production from the Har Shalom Players. Past shows include: Annie, Bye Bye Birdie, Damn Yankees, Fiddler on the Roof, Hello, Dolly!, Joseph and the Amazing Technicolor Dreamcoat (original HSP show, 2004, revival 2017), The Music Man, Oliver!, Once Upon A Mattress, The Secret Garden, Seussical the Musical, Shrek The Musical, and The Wizard of Oz.