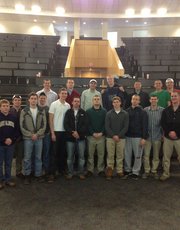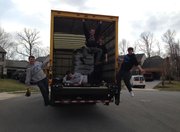 Mulch Sale Supports After-Grad Party
The Centreville High School community rallied around its seniors and bought thousands and thousands of bags during the annual mulch sale March 15-16.
The result: 13,500 bags of mulch sold and delivered in two days. One truck donated by Realtor Karen Gale plus eight 26-foot Penske trucks were used for deliveries. So many people volunteered that deliveries wrapped up a day ahead of schedule.
Proceeds from the mulch sale will help finance a drug-and-alcohol-free after-graduation celebration for CVHS's 555-member Class of 2013 on Tuesday, June 18.
Student and parent volunteers participated in the months-long planning process as well as on the weekend of the sale and delivery. Nearly three dozen young men from the James Madison University chapter of Sigma Nu Fraternity made the two-hour drive from Harrisonburg and arrived Saturday morning at 10 a.m. to lend a hand. Local merchants, including Manhattan Bagel, Giant Food, Texas Roadhouse, Papa Johns, Ciros, Starbucks, and Shoppers Food Warehouse also provided donations. New CVHS Mulch Sale banners were donated by Signs by Tomorrow.
More like this story