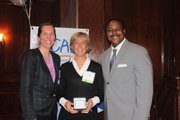 Alexandria's Lori Morris was honored by Stop Child Abuse Now (SCAN) at the 11th Annual Allies in Prevention Awards luncheon April 2 at Maggiano's at Tysons Galleria.
Morris was one of five Northern Virginia individuals recognized by SCAN and its Allies in Prevention Coalition as a local hero for her commitment to prevent child abuse and neglect. The event also served as the kick-off for the 2013 Northern Virginia Child Abuse Prevention Campaign.
The president and co-founder of the Bruhn-Morris Family Foundation, Morris was instrumental in the push to launch a Center for Alexandria's Children during her time as a board member of the Alexandria Community Trust. With a background in early childhood special education, she worked to bring significant changes to the community through programs including the Virginia Early Childhood Foundation and Smart Beginnings.
Morris currently drives the CAC's Playgroup Steering Committee, which expects to triple participation of its weekly playgroups over the next 18 months.
As was noted during the presentation of the award, "Lori's uncompromising commitment to protecting Alexandria's most vulnerable children sets a standard for us all."
In addition to Morris, other awards were presented to Hilda Barg (Prince William honoree), Sheila Coates (Fairfax honoree), Sandra Glenney (Loudoun honoree) and Mary Ann Moran (Arlington honoree).
WJLA/Channel 7's Leon Harris served as emcee of the event and Heather Higgins of The Upside Down Organization offered a keynote address.
For more information about SCAN and its child abuse prevention programs, visit www.scanva.org.