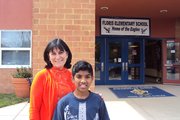 Nishanth Anand is calm and quiet as he talks about competing in the 2013 Virginia National Geographic Bee. Anand is a sixth grader at Floris Elementary School and this year's contest marked his second time as a finalist. The competition took place on Friday, April 5, at Longwood University. It drew competitors from all parts of the state, all hoping to win and be propelled to the national stage.
Anand arrived at Longwood University as a finalist after winning a qualifying competition at his elementary school. A school must register with National Geographic for its students to be eligible. This year was the fourth year of eligibility for Floris Elementary. It was also the second time Anand became a finalist in the statewide competition. He said he was less nervous than the year before but just as excited to be competing again.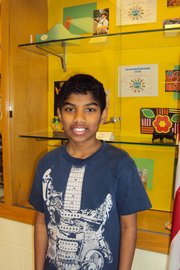 While the focus of the bee is geography, Anand has explored a variety of subjects inside and outside of the classroom. Noticing his fascination with science in first grade, Anand's mother found ways to foster his sense of curiosity. At home Anand's parents searched for online games, puzzles and activities and tried to provide resources that were relevant and interesting. "Leave it up to him and he would play videogames for three hours like most boys," says Nishanth's mother. She believes that it is important for him to have fun but it is equally important that he maintains a balance and pursues his other interests.
The school environment has also been integral to fostering Anand's educational pursuits. Principal Gail Porter said teachers at Floris Elementary are effective in identifying students' interests and tailoring their lessons and teaching styles appropriately. In addition to the in-classroom experience is the after-school club participation. Anand participates in science and math clubs after school. Last year a geography club monitored by a parent-volunteer helped students to get ready for the school-wide competition. This year the club did not materialize; however, educators and parents alike generally work together to encourage students' extracurricular activities.
The Virginia National Geographic Bee takes place annually and is a precursor to the national competition which takes place May 20-22 in Washington, D.C.