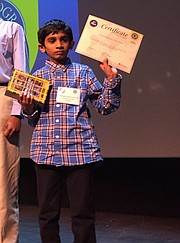 Siddharth Krishnakumar, a sixth-grader from McNair Elementary School, Herndon, took second place at the 2015 Virginia Geographic Bee held on March 27 at Longwood University in Farmville, Va. Krishnakumar is also a member of his state qualified Science Olympiad team.
The competition featured 100 geography students in the fourth through eighth grades from across the state. The 100 qualifiers had to face a eight rounds of tough geography questions on topics like Weird but True, Amazing Animals, State Savvy, U.S. Food habits and more.
At the end of the eight rounds more than 10 participants stood ground and hence they had to face tough tie breaking questions such as "Where is the city of Iquitos?" "What landlocked country is between Belarus and Ukraine?" and after these tie breakers the top 10 finalists were selected.
The top 10 finalists again had to face rounds and rounds of tough questions, and finally Alex Perdue and Krishnakumar remained to go into the championship round in which Perdue, an eighth grader from Salem, won to be crowned the 2015 Virginia State Geographic Bee champion and Krishnakumar finished as the runner up.
Perdue was awarded $100 plus an all paid trip to Washington D.C. by the co-sponsor Plum Creek. Krishnakumar was awarded a $75 cash prize and a Collection of National Geographic Magazine CDs. This year the National Geographic TV crew was there to film the entire event and also interviewed the champion and the runner up of the Virginia Geographic Bee.
Four Among Top 10
Four Fairfax County Public Schools (FCPS) students reached the 2015 Virginia finals of the National Geographic Bee. Siddharth Krishnakumar of McNair Elementary School was the second place finisher, and Harshavardhan Harish of Mosby Woods Elementary School finished in third place. Among the 10 finalists were FCPS students Jacob Radomsky of Jackson Middle School and Neha Krishnakumar of Frost Middle School.