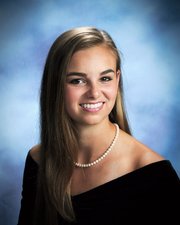 Two seniors at Bishop Ireton High School were named finalists in the National Merit and National Achievement Scholarship Programs.
Anna Rapp has been named a finalist in the National Merit Scholarship program. Anna will attend the U.S. Military Academy in the fall. According to the National Merit Scholarship Corporation, the nationwide pool of finalists represents less than one percent of U.S. high school seniors. Anna will receive a $2,500 scholarship underwritten by the National Merit Scholarship Corporation.
Tamra Nebabu has been named a National Achievement Scholar. Tamra will attend Massachusetts Institute of Technology in the fall. Tamra is among approximately 800 outstanding black American high school seniors nationwide who have won Achievement Scholarship awards of $2,500 through the National Achievement Scholarship Program.