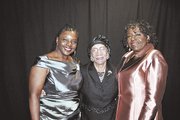 S.T.O.M.P. (Sisters Touching Others thru Mentoring and Prayer) hosted its first awards banquet on March 24, at the Hampton Inn, Alexandria. The event's theme was: "Celebrating African American Women: Honoring Our Elders" and was planned in celebration of Women's History Month and specifically designed to highlight the contributions of African American women to their community.
Dr. Virginia M. Manning and Madam Marci Walker were selected as recipients of the "Nyansapo Award" for their contributions in encouraging, mentoring and developing positive self-esteem in African American women and girls.
Manning is a spiritual/inspirational writer, professor at Maple Springs Bible College and encourager of women who have experienced emotional trauma.
Walker is co-owner of Madam Walker's Braidery and School in Temple Hills, Md. Walker is committed to doing her part to bring awareness to domestic violence as well as, mentoring and teaching in the natural hair industry.
Kumea Shorter-Gooden, Ph.D., chief diversity officer and associate vice president at the University of Maryland, College Park and co-author of "Shifting: The Double Lives of Black Women in America" delivered the keynote address. Shorter-Gooden told the audience that three essential qualities are needed to make a difference in the world: roots to keep grounded, wings to explore new horizons and navigate to new places, and voice to speak up about issues that affect marginalized and neglected people and communities. Platinum, a local comedienne, was the mistress of ceremony for the evening. Attendees were treated to a jazz performance by Louis Nicholson. The finale was a natural hair show produced by Shanti Walker.
Gloria Rease, the event host and founder of S.T.O.M.P., said that she is hopeful that they were making history that evening. Rease's vision is to have March 24 – 31 set aside as African American Women's History Week where accomplishments of women of African descent are recognized and applauded.