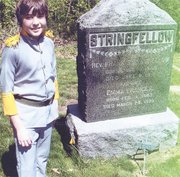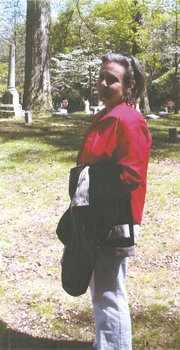 Saturday, April 20, saw the first annual public tours of Ivy Hill Cemetery, located on King Street not far from Janney's Lane.
Organized by a ninth-generation native of Alexandria, Lucy Burke Goddin, visitors were met at graveside by interpreters in period garb who offered introductions to the selected "permanent residents."
"Reminding our neighbors of an overlooked local treasure of history in a beautiful natural setting" is the way Goddin explained the purpose of the tour.
The entombed celebrities included: Confederate spy and graduate of Virginia Theological Seminary (Frank Stringfellow), member of the WWII French Resistance (Simonne Michenon), German rocket engineer (Wernher von Braun) and builder of Alexandria's first water system, the reservoir of which still can be seen atop Shuter's Hill (Robert French Roberts).
A number of plans are being considered by the Ivy Hill Cemetery Historical Preservation Society. In near time, seasonal nature tours can be expected that highlight the many varieties of trees and other flora found on the 22-acre urban spread. Long-range ideas include restoration of a burial vault — now empty — in which to hold small parties and other gatherings.