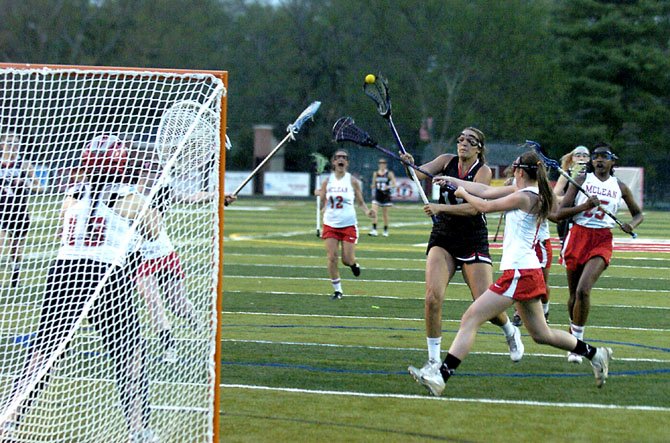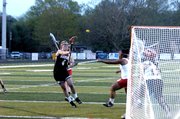 McLean — After falling behind McLean during an April 18 matchup, Madison girls' lacrosse coach Amanda Counts had a message for the Warhawks during a timeout.
"[I told them] that they need to have pride in how they play," said Counts, whose Warhawks defeated 2012 state runner-up Langley six days prior. "Coming off a big win last week, where they were super excited, it seemed like they were resting on that and they need to recognize that we have a long season ahead of us and accomplishing our interim goals as we go does not mean we get to slack off at any point.
"We have to be prepared for what's coming down the line."
While Madison stumbled during the first eight minutes, the Warhawks proved prepared to dominate the remainder of the contest.
Madison outscored McLean 20-5 during a 36-minute stretch and defeated the Highlanders 21-11 at McLean High School. Madison trailed 4-1 early, but the Warhawks responded with four straight goals and 11 of the next 14 en route to a 12-7 halftime lead. Madison scored nine of the first 11 second-half goals and cruised to victory.
"I think we started working together as a team," Madison junior Alex Condon said in regard to the Warhawks overcoming their slow start. "I feel like the first few minutes, everyone was playing as an individual. I feel like after that, we came out, we got focused and we did what we needed to do to get it together."
NINE DIFFERENT WARHAWKS scored at least one goal and seven scored at least two. Senior attack Carly Frederick led the way with four goals. Condon, junior Katie Kerrigan and senior Melissa Kellan each had three goals and sophomore Kierra Sweeney, junior Sam Babbitt and senior Erin Callahan each had two. Juniors Maddie Renshaw and Rachel Brennan each added one.
On April 22, Madison beat South Lakes 17-6, improving the Warhawks' record to 7-1, including 4-0 in the Liberty District.
Many of Madison's juniors and seniors were members of the program's 2011 undefeated state championship team. The Warhawks have also won each of the last two Liberty District titles. This season, Madison has a greater dependence on its elder athletes to provide leadership and on-field production as the younger Warhawks don't possess as much experience as in previous years.
"This is a whole new team," said Frederick, who was a sophomore on the 2011 state title team. "We're not used to this kind of team at all. It's definitely a challenge, but one that we're all taking optimistically. There are times where it's very frustrating. I've never been on a team like this. Being a senior and being a captain, I really enjoy trying to help the other players and trying to get everyone on the same page. I don't think captains in previous years that I've played have ever had to have that much responsibility. It's a lot of pressure."
"Coming off a big win last week, where they were super excited, it seemed like they were resting on that and they need to recognize that we have a long season ahead of us and accomplishing our interim goals as we go does not mean we get to slack off at any point."

--- Madison girls' lacrosse coach Amanda Counts
How have the Warhawks remained successful?
"We hold [younger players] accountable to the level that our coaches expect us to be playing at," Frederick said. "It's definitely tough. There have been a lot of emotions throughout the season, but everyone is starting to really come together and I don't think that anyone has really seen the best of Madison yet and I'm excited for that game to come."
Condon was a freshman on the 2011 team.
"When I was a freshman, we had great seniors that helped everyone," said Condon, now a junior. "They were always willing to stay after practice with you and help you out and spend extra time with you and I [looked] up to them and try to do that with the young girls here."
Counts said the elder Warhawks need to have athletes of all ages playing well in order for the team to be successful.
"They have a lot to accomplish," she said. "There are girls who are experienced here and have been in the program and have been with us through successes, but we have a lot of new girls, so that's not something every single person has in their back pocket. They need to bring everybody up to the same level. We have to play together to get anything done."
After losing to Madison, McLean defeated Marshall 16-12 on Monday, improving the Highlanders' record to 4-5, including 2-3 in the Liberty District.
AGAINST MADISON, senior attack Ava Mirzadegan and freshman midfielder Alessandra Pelliccia each scored three goals. Junior midfielder Nikki Lind finished with two goals, and sophomore attack Grace Tiernan, senior attack Sibylle Miller and sophomore midfielder Elise Koehl each finished with one.
Mirzadegan and Lind scored the first two goals of the April 18 contest against the Warhawks. After Frederick put Madison on the board, Pelliccia and Lind scored, giving McLean a 4-1 lead. Pelliccia scored from free position with 9:27 remaining in the first half, giving the Highlanders their final lead of the night at 6-5.
"I think our girls played hard the entire time," McLean head coach Alexandra Whitworth said. "They were fired up the whole time for this game. This is always a big rivalry that we have against Madison. I think [the Warhawks] just kind of capitalized on their shots. Our shooting kind of went downhill as the game went on. Their goalie had some really good saves."
McLean will travel to face Fairfax at 7:30 p.m. on Monday, April 29.
Madison will host Fairfax at 7:30 p.m. on Friday, April 26.