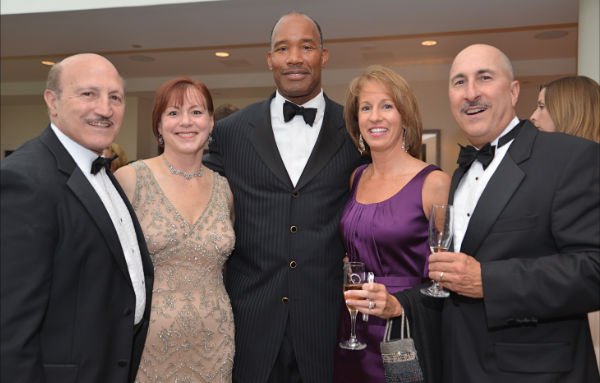 Trust people who wear formal attire as their uniform, and those who direct and administer their efforts, to know how to put on a gala. Sunday, April 21, was the night of the McLean Orchestra's annual fundraiser held at the Hilton Tysons Corner. Themed "Midnight in Paris" from reception start through a dinner that included a live auction, acknowledgements and awards, and finally dancing to the tunes of Ed Witles The Elegant DJ, the black-tie evening was as well-arranged, conducted and received as any of the musical performances for which the orchestra is known.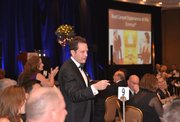 Master of Ceremonies and former Redskins defensive end Charles Mann got the evening started with his opening remarks. "We are so pleased to have him with us this evening," said McLean Orchestra President Aileen Pisciotta. "Apart from his amazing sports career (three Super Bowl rings), Charles is a businessman, and a philanthropist … personifying the spirit of giving and community that we celebrate."
Pisciotta took to the podium after Mann, praising the many people who had contributed time, money, services and products toward the success of the event and of the orchestra, with special acknowledgement of the gala sponsors, including Regus Management Group, LLC, Dr. Wayne Winston and Mrs. Linda Sharp, Col. (Ret.) Allan and Mrs. Jorgenson, Mr. J. Almont Pierce and Ms. Lola Reinsch, Wells Fargo Bank and many other patrons.
INSTEAD OF THE USUAL chat and chew, the tempo really picked up at dinner as professional charity auctioneer and magician David Goodman worked the stage and the crowd, expertly prodding numbered paddles to rise and wallets to open. "Come on, ladies and gentlemen," he prompted. "Let's play competitive giving!" Of course, his job was probably made easier by the items up for auction: Who could resist bidding on a Cordon Bleu culinary experience in Paris or a week in England starting at an historic manor hotel, spa and golf course and ending up in London with golf, tours, theater tickets and Player's Enclosure tickets to the Boodles Tennis Tournament? What about a red carpet experience at the Emmys? Including the entrance walk on the famous red carpet? A seven night stay for 12 people in a luxury villa in Tuscany, Italy with a private chef, wine tours and a Tuscan cooking class was so hotly contested by the bidders that Goodman sold it twice.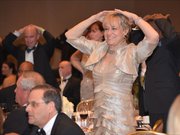 A box auction raffle gave even more patrons an opportunity to win and to contribute. Goodman kept the crowd moving—quite literally—and the donations flowing with what he described as a "7th inning stretch," getting diners to donate $20 in order to play a game of "Heads or Tails," to win a mini iPad.
Given the recipient of all this generosity, the evening would not have been complete without a musical interlude, which was provided by soprano Melissa Mino. A brief film was also shown, highlighting the orchestra's performances, community involvement, education programs and youth orchestra.
Charles Mann, President Pisciotta, and Executive Director John Huling returned to the podium to preside over the presentation of two special awards. Ann Page, a past president and member of the Board of Trustees for 10 years, was the recipient of the first Chairman's Concerto Award, "earned for personal effort and demonstrated passion for … the orchestra."
Shane McLaughlin accepted the Golden Baton Award on behalf of Wells Fargo & Company. Wells Fargo was the largest sponsor for the annual galas in 2010 and 2011 and became the first season underwriter in 2012. Orchestra officials also cited Wells Fargo for their commitment to community service and development, in addition to generous financial support.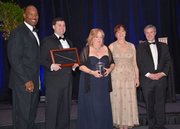 ECHOES OF THE PARISIAN THEME will continue when the orchestra offers its final "Season of Imagination" concert on May 4. For tickets or to learn more about the McLean Orchestra and their dedication to creating a "Community in Concert," visit www.Mclean-orchestra.org.