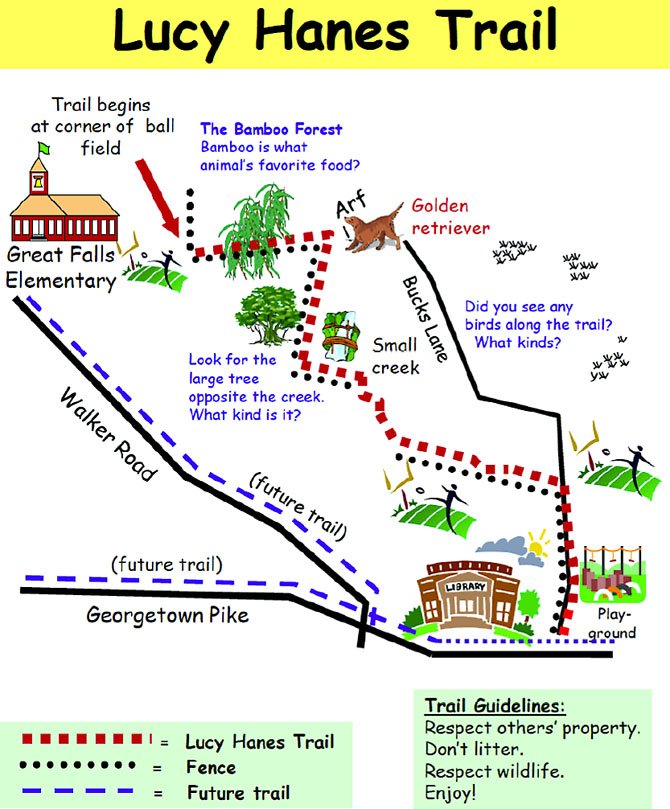 Many of our roads in Great Falls were originally Native American trails. Nine roads in Great Falls were in use before the signing of the Declaration of Independence and Georgetown Pike is now on the National Register for Historic Places. Fifty years ago people could walk or ride horses just about anywhere in our town. Today, walking or riding along side roads is very dangerous. Parents drive children everywhere and interaction between neighbors is limited.
Pedestrian access to the Village Center is the priority amenity identified by the Great Falls community. In addition, residents want to be able to walk or ride to area parks, schools and even just to their neighbor's house—a difficult task for many in our community. Despite being awarded over $2 million in grants over the last decade, constructing trail is a slow process due to the lack of connecting right-of-ways or continuous trail easements. Trail Blazers is currently working to create natural surface paths within existing right-of-ways along Georgetown Pike and Springvale Road. We are also talking with homeowners about how they can help by placing a trail on their property. By going to www.GreatFallsTrailBlazers.org, community members can learn how to obtain a tax credit under the Virginia Land Conservation Act by donating a trail easement.
We invite you to take "The Historic Lucy Hanes Trail Challenge" this Sunday, May 5. Park in the Great Falls Elementary School lot and walk the 0.33-mile trail from the elementary school to the library parking lot to The Great Falls Grange Park—about a 10-minute walk. Experience how amazing it is to walk through beautiful Great Falls with shoe to the ground! The Trail Blazers have worked over the last several weeks to clear and mark the trail so that you can easily find your way.
The Great Falls Trail Blazers formed in 1999 with the goal of creating a multi-use trail system shared by pedestrians, horses and bicyclists. Trails help build community. People out walking meet other people out walking, bicycling and riding horses. (So be sure to say hello to everyone you meet on the Lucy Hanes Trail.) Our stone dust trails are meant to be safe, people-friendly and accommodate all-terrain strollers, mountain bikes, and all-terrain wheelchairs. Stone dust and natural surfaces absorb water and are better for the environment while providing a "soft" surface for children on bicycles. Furthermore, stone dust blends in with the historic and scenic nature of Great Falls roads.
Working together we can succeed in connecting our community with safe and environmentally friendly trails that enhance our heritage, health and families.