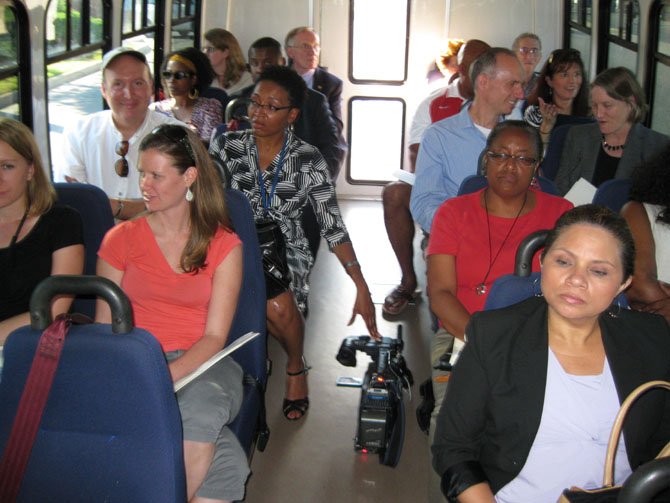 Mount Vernon — Opportunity Neighborhood, a group that helps children succeed in school and life, celebrated its first anniversary with an 11-stop bus tour targeting Mount Vernon schools and neighborhoods along Route 1.
The tour highlighted the areas that are served by the organization which supports young people from "cradle to college to career." The tour started at the South County Government Center, which houses Human Services agencies in Fairfax County.
Opportunity Neighborhood unites parents, grandparents, businesses, government, funders and established community groups to help others by sharing resources, knowledge, money, mentoring, or volunteering time.
Capital One gave the seed money to pay for community outreach. Other donors are the Virginia Department of Criminal Justice Services and the Virginia Department of Education.
The first stop on the tour: Mount Vernon High School with one-third blacks, one-third whites and one-third Hispanics — where 41 percent of its 1,800 students receive free or reduced lunches.
Next stop: Riverside Elementary with high numbers of West Africans and Hispanics where 62 percent of its students receive free or reduced lunches.
Next stop: Walt Whitman Middle School, the only school in the county where every student is bused, and 51 percent of the 1,000 students receive free or reduced lunches.
Next stop: Mount Vernon Woods Elementary, where 82 percent of its 550 students receive free or reduced lunches.
People who live along Route 1 in both the Lee and Mount Vernon Districts experience high amounts of school absences, expulsions and suspensions emergency.
"We saw a disparity between white kids and other kids, and good things weren't happening for other kids," said Kobby Annor-Ampofo, co-chair of the Opportunity Neighborhood Governance Team. "The mission of Opportunity Neighborhood is securing success for every child, where families and government work together to support children from cradle to college to career."
So he spends time focusing on parent and community engagement, how they can join together to share their strengths to improve the lives of others.
Why the Mount Vernon Pyramid? "We could identify a need," said Karla Bruce, division director with the Department of Neighborhood and Community Services.
The good thing is that already-established groups are already serving the community; Opportunity Neighborhood ties it all together.
For example, there are strong programs like United Community Ministries, Good Shepherd Catholic Church, Bethlehem Baptist Church, Progreso Literacy and Citizenship Center, Good Shepherd Housing and Family Services, and "Together We're The Answer." The "Together" group is a grassroots mix of about 25 parents, local leaders and school personnel who want to see youth succeed.
"Their primary mission is youth success," said Bruce. "Ensuring that children aren't involved in disproportionate numbers in the juvenile justice system or child welfare system."
Katherine Morrison, interim executive director of Good Shepherd Housing and Family Services, called Opportunity Neighborhood "an important demonstration of the collaboration among different sectors, including the very important voice of the residents themselves."
Del. Kenneth R. Plum (D-36th) of Reston, who attended the tour, added: "We're going to use a similar thing at our end of the county. I appreciate seeing the cooperation that exists here among community groups. It's heartening to see that people can work for a common goal."
Toya Codjoe, who is leaving Opportunity Neighborhood to work for Reston Interfaith, added: "What I've learned is how much you can get done when people truly do work together. I think it's evident in our accomplishments and all of the things we've been able to do in just one year."
After the tour ended, students of the Supreme Teen Street Team shared stories on how they are helping. "One of our main goals is we help people who aren't doing so well," said Beatrice Asuaa, 18, vice president of her class at Mount Vernon High. "We'll show the parents how to be more involved with their kids." Beatrice moved here from Ghana in 2003, speaking French and no English. She'll be attending Old Dominion University in September to study nursing and psychology.
"Our aim is to influence kids who aren't on the straight and narrow — to stay in school and remain positive," said Desha Brown, 16, a rising senior at Mount Vernon High. "We want to inform them about programs that keep them off the streets and keep them positive."
Eric Wanzer, 17, a rising senior at Mount Vernon High, held a workshop on motivation, goal setting and success. "We speak to teams around our age bracket, encouraging them to stay in school and be productive to go further in life." He plans to pursue counseling at Old Dominion University.
"We had an event where we went to summer school and talked about how education gets you far in life," said Alexis Endicott, 16, of Mount Vernon, who wants to study law at Harvard.
Amilcar Martinez, 17, a senior at West Potomac High, added: "It's been a great opportunity so far, helping out other youth in need who are struggling. If they need help with anything, they can come and talk to us."
For more information or to volunteer with Opportunity Neighborhood, contact Karla Bruce at 703-324-5360, or Karla.Bruce@fairfaxcounty.gov.