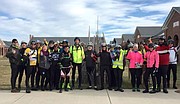 Welcome to the Mount Vernon District! For those of us who live, work, learn and play in the District, this is a wonderful place to live. From our incredible history and heritage — the Mount Vernon Estate and the Workhouse Arts Center for example — to the exciting revitalization of Richmond Highway and the new amenities coming to Lorton — the Lorton Community Center and South County Police Station and Animal Shelter — no matter where you live in the District, the future is bright!
Even if you are new here, you likely know that Fairfax County has one of the best school systems in the country, but for us it goes beyond that. Life-long learning is important to many of our residents and I am proud to say we are bringing more opportunities through our future partnerships at Original Mount Vernon High School (OMVHS) with the Northern Virginia Community College (NVCC) and Fairfax County Public Schools (FCPS). In addition, the synergy created by collocating Teen and Senior Centers, the Library, Neighborhood and Community Services, and the Lorton Community Action Center (LCAC) in the new Lorton Community Center will provide many more active and passive learning activities for residents of all ages and abilities.
Fairfax is the safest community of its size in the country, with our Police force actively engaged in our neighborhoods and communities. National Night Out was a great example of residents and Officers coming together to build relationships, trust and community spirit! The new South County Police Station and Animal Shelter will enable even greater community engagement in Southeastern Fairfax County.
WHILE A DECADES LONG PROCESS, the revitalization of the Richmond Highway corridor will bring Bus Rapid Transit (BRT), higher density urban living with ecologically sensitive, walkable, livable neighborhoods. A focus on community development, preservation of existing community character, urban design and a variety of transportation modes will bring new residents, businesses and partnerships to the corridor. My Strategic Economic Development Team (SEDT) is working hard to bring the best commerce partners to the region, while my Tourism Task Force is working to enhance and grow our tourism market and our Embark Housing Advisory Committee keeps us grounded in the need for more affordable and workforce housing.
The District is rich with parks and recreational opportunities. Put on your walking shoes and head to River Farm, Huntley Meadows (OK, not technically in the District, but very close) or Fort Hunt Park. Spend the day paddling on one of the many rivers and creeks at Pohick Bay Park, Dyke Marsh, Occoquan Regional Park or Mason Neck State Park. Ride some of the best bike trails in Northern Virginia at Laurel Hill Park and Meadowood, or use the many trails along our roadways for your daily commute. To find your adventure, checkout our parks page on the Mount Vernon District webpage: www.fairfaxcounty.gov/mountvernon/.
If site-seeing and history are your interests, visit George Washington's Mount Vernon Estate, the Woodlawn Plantation or Historic Pohick Church, to name a few. If arts and culture inspire your creative spirit, spend a day at the Workhouse Arts Center visiting over 70 artists working in their studios, learning about the historic Lorton Prison, attending a concert or theater performance or joining your partner for ballroom dancing. Shopping at Farmers Markets, listening to free summer concerts and strolling along the river are all part of the experience in our corner of the county. I hope this small sampling of all that is available to explore in the Mount Vernon District encourages you to take the time to find the many experiences awaiting you.
PRESERVING OUR ENVIRONMENT by addressing climate change, energy efficiency and resiliency planning will continue to be a focus as Fairfax engages in these important world-wide issues. The initiation of a Community-wide Energy and Climate Action Plan (CECAP), the Joint County and School Boards Environmental Task Force (JET) and accelerated County initiatives to mitigate climate impacts, as guided by my Fairfax Green Initiatives Board Matter, are important to the health and wellbeing of all our people, places and property. Watch for more about how you can get involved and make a difference, one person at a time!
My number one priority is always you and our office is here to help! I strive to engage deeply and frequently with the people of Mount Vernon. TEAM MVD provides timely constituent service as we continue to build the ideal community in which to live and thrive. We are committed to performance standards that ensure we are a responsive, transparent and informative office. We are here to answer your questions and will respond to your communications within two business days or less. Have a question about road construction, snow removal, trash collection, stormwater runoff or voting precincts? Email us at MTVernon@FairfaxCounty.gov. Want to book a community room for a meeting, or not a fan of email? Call us at 703-780-7518. Need a document notarized or just want to visit your District Governmental Center to see local government in action? Stop by our office at 2511 Parkers Lane, Mount Vernon. I also have extended office hours on Thursdays and the second Saturday of each month, walk-ins and appointments are always welcomed.
TEAM MVD will also be hosting several signature events throughout the fall. Join us on Sept. 20, at 1 p.m. at the South County Center for the dedication of that building as the Gerry W. Hyland Governmental Center. Our 4th Annual Tour de Mount Vernon Community Bike Ride will take place on Oct. 19, at 8:30 a.m. at the Workhouse Arts Center. More information and registration can be found here: https://www.fairfaxcounty.gov/mountvernon/tour-de-mount-vernon-2019. On Nov. 16, learn how to lessen your environmental impact at the 2nd Annual Environment Expo. And, finally, join us to celebrate the holidays at the Mount Vernon District Holiday Open House on Dec. 5. More details on all these events will be available on our website and in our newsletter.
If you haven't figured it out already, you have chosen a great place to live, educate your children, grow your career and engage with your neighbors. Welcome to the Mount Vernon District, where history, heritage, outdoor living, educational opportunities and public safety come together to support our exciting future! Visit our website (www.fairfaxcounty.gov/mountvernon) to sign up for our newsletter, follow us on Facebook and Twitter and learn about the myriad of District projects, important topics, area activities and upcoming events in your new community.
Top 10 Places and Events
George Washington's Mount Vernon Estate

Workhouse Arts Center Brewfest (Sept. 14) & Fireworks (June 2020)

Tour de Mount Vernon – Oct. 19

Woodlawn Plantation and Pope Leighey House

George Washington's Grist Mill and Distillery

Fort Hunt Park

Mason Neck State Park

Occoquan Regional Park

Pohick Bay Park

Arcadia Farm