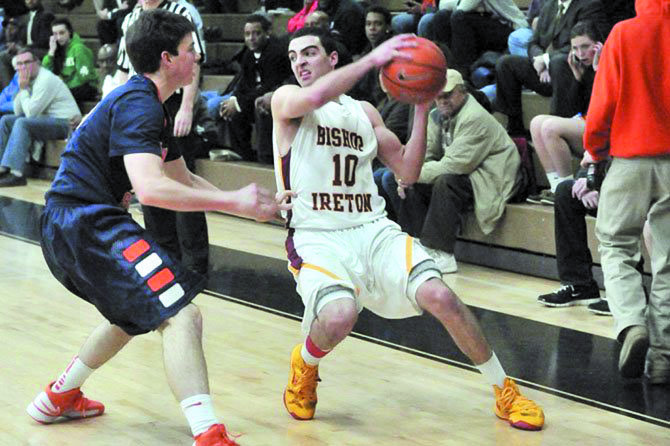 The Bishop Ireton boys' basketball program showed significant improvement during the 2012-13 season. The Cardinals won 18 games, their highest win total since 1986, and reached the Washington Catholic Athletic Conference semifinals for the first time in school history after upsetting top seed Gonzaga.
One of the reasons behind Ireton's success was senior guard Louis Khouri, who earned honorable mention all-WCAC. Khouri graduated from Bishop Ireton in 2013 with a 4.2 cumulative GPA, and his intelligence translated to the court.
"Louis plays the game like a 40 year old," head coach Neil Berkman said during the season. "His IQ is off the charts. He sees the next play. We're going to miss him dearly. He brings a lot of intangibles that don't show up on the stat sheet with him. He's just a terrific kid to coach …."
Khouri will continue his basketball career at Catholic University of America.
Q: What made Catholic the right fit for you?
Khouri: CUA has a very good engineering program, which is my major, combined with a good basketball team for which I feel I can contribute, and a nice campus with plenty of opportunities to develop as a person.
Q: What position will you play?
Khouri: Mostly the 2 guard position, and I might run point as well at times.
Q: What is your favorite memory of playing basketball at Bishop Ireton?
Khouri: Favorite memory was upsetting Gonzaga in the WCAC playoffs.
Q: If you could go back and change one thing about your high school athletic career, what would it be?
Khouri: I would have played football. I've always been a huge fan, but never tried to play.
Q: At what age did you start playing basketball? When did you realize playing college basketball was a possibility for you?
Khouri: I've been playing since I could walk. I've always dreamed of playing NCAA basketball, and I realized I had a good chance to play junior year, when I started to receive interest from various universities.
Q: What are you most looking forward to about the transition from high school to college?
Khouri: I am most looking forward to meeting new people and exploring new opportunities. I will be living on my own for the first time, so I'm excited to mature and develop as a young adult.
Q: Who is your favorite music artist? Why?
Khouri: J. Cole, because I'm a big fan of his music, and I admire the fact that he writes his own lyrics and makes his own beats. Outside of music, he attended and graduated from St. John's University, which is respectable and very rare for rappers today.
Q: What's your favorite movie? Why?
Khouri: "Coach Carter," because it's a great story about basketball that also teaches valuable life lessons and mixes in some comedy.
Q: What's your favorite food?
Khouri: My mom's chicken Parmesan and lasagna.
Q: What is your favorite hobby outside of basketball?
Khouri: I'm a huge NFL fan. I'm a die-hard Colts fan and I love playing fantasy football.
Q: What location is the farthest you've traveled from the Washington, D.C. metro area?
Khouri: I have traveled to Beirut, Lebanon, which is where my family is originally from.
— Jon Roetman