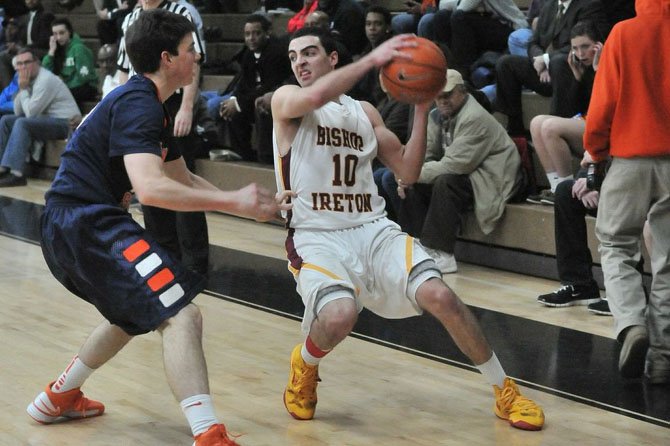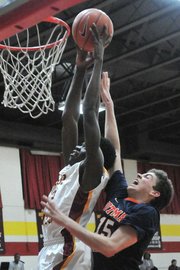 Alexandria — Two days after making the program's first trip to the WCAC tournament semifinals and losing to St. John's, the Bishop Ireton boys' basketball team hosted Potomac School in the opening round of the VISAA state playoffs.
The Cardinals quickly showed there would be no letdown against their opponent from the Mid-Atlantic Conference.
Bishop Ireton built a 22-point halftime lead and cruised to a 59-42 home victory against Potomac School on Tuesday night. The following night, the Cardinals' season ended with a loss to No. 4 Benedictine in the quarterfinals.
Ireton opened Tuesday's game with a 13-1 run and led 17-3 when Dan Noe scored with 5:44 remaining in the second quarter. The Cardinals held a double-digit lead for the final three quarters of the contest.
"I thought we came out of the box pretty well with a lot of energy after the emotional letdown of losing to St. John's in the semifinals," Ireton head coach Neil Berkman said. "We occasionally exhibit fragile psyche and tonight we showed some resilience and came out played hard. … I was proud of my guys."
Senior guard Louis Khouri led Ireton with 14 points, including eight in the first quarter.
"Louis plays the game like a 40 year old," Berkman said. "His IQ is off the charts. He sees the next play. We're going to miss him dearly. He brings a lot of intangibles that don't show up on the stat sheet with him. He's just a terrific kid to coach and I hope his career doesn't end for another three games."
Noe scored 12 points, Patrick Moseh totaled 11, Ritchie Kamtchoum finished with eight and Kyree Robinson added seven.
"I think it's a program-changer and I hope recruits out there see it and I hope we realize that anything is possible."

— Ireton boys' basketball coach Neil Berkman about beating Gonzaga
The victory came three days after Ireton upset top-seed Gonzaga 67-58 in the WCAC quarterfinals on Feb. 23. Gonzaga went undefeated in conference play during the regular season and beating the Eagles earned the Cardinals their first trip to the conference semifinals. Moseh led Ireton with 20 points, and Noe and Khouri each had 16, according to the Bishop Ireton athletics Web site.
"It was a great win," Khouri said Tuesday. "… This is the first time in my high school career beating Gonzaga, so it was kind of just a good way to end it. We played as a team; we won as a team, every body contributed, so it felt great to upset Gonzaga. … I think a lot of teams were just staying Ireton's close but they're not for real, and pulling the upset I think got some people's attention to respect Ireton as a program. We're still not up there with the elite teams yet, but we're getting there."
The Cardinals found a way to win despite losing a 10-point lead. Berkman called the victory "unbelievable."
"I think it's a program-changer and I hope recruits out there see it and I hope we realize that anything is possible," Berkman said. "We've been coming close the entire year and haven't been able to get over the hump and when they erased our 10-point lead at halftime and tied it up, everybody was like, 'Here we go again,' including the coaches.
"We got over the hump with some toughness and some gang rebounding and making big plays at the big time. Going through the wars every day in the WCAC just made our team resilient."